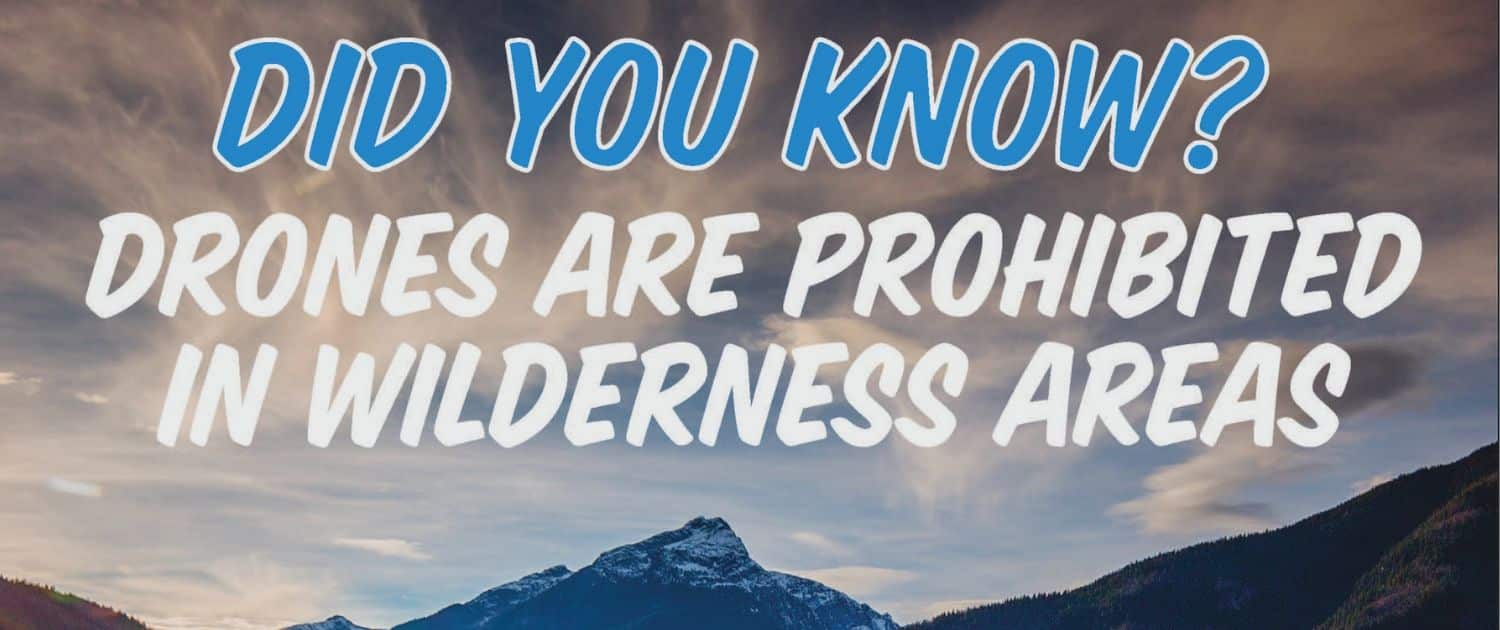 30 Jul

Tread Lightly!, U.S. Forest Service, and AirMap Address Safe and Compliant Wilderness Drone Use

Tread Lightly!, U.S. Forest Service, and AirMap Address Safe and Compliant Wilderness Drone Use

CENTERVILLE, Utah (July 30, 2019) – Working jointly with the United States Forest Service (USFS) and AirMap, the leading global airspace intelligence platform for drones, the national nonprofit Tread Lightly! has released a new print public service announcements (PSAs) and launched a campaign to educate drone users about designated fly zones over public lands.

The new PSA reminds users that drones are classified as a form of "motorized equipment" by the USFS and therefore prohibited in designated Wilderness Areas. The PSA also encourages safety and use of drones only in
designated fly zones. The PSA is the latest addition to a growing assortment of messages in its Respected Access is Open Access—Drones campaign.
"The Forest Service wilderness program wanted to develop these educational pieces to address the growing popularity of using drones on public land," said Sandra Skrien, National Wilderness Program Manager of the U.S. Forest Service. "As the drone community grows, we want to take a leadership role in addressing important recreation issues to help minimize impact and protect wildlife."
Along with the PSA, Tread Lightly! has partnered with AirMap to help drone operators find designated fly zones as well as areas where drone use is restricted. With more than 250,000 registered users worldwide, AirMap's easy-to-use fly mobile and web applications help drone operators plan and conduct drone flights in compliance with regulations. Drone operators can download the AirMap app today to access information on designated fly zones over public lands.
"We are excited to partner with Tread Lightly! and address the safe and regulated use of drones over public lands through the AirMap for Drones application," said Steve Willer, AirMap's Manager for Territory Sales, Americas. "By informing drone operators about designated fly zones, we can help minimize impacts on wilderness and public lands."
This PSA is the most recent addition to a full campaign of drone-related messaging first developed by Tread Lightly! and the USFS in 2017. PSAs and other educational materials addressing drones-related recreation issues can be found at treadlightly.org. Tread Lightly! hopes those in the drone community will embrace and share this message to help encourage proper use.
"Tread Lightly! is a positive resource for all public land users and managers," said Keith Gordon, Tread Lightly!'s Executive Director.  "We are striving to be at the forefront of emerging recreation issues so that users are aware and to stop impacts before they can even start. Thanks to support from groups like AirMap and the Forest Service, we can reach a broader audience and protect access to public land at the same time."
About Tread Lightly!
Tread Lightly! is a national nonprofit organization with a mission to promote responsible recreation through ethics education and stewardship programs. Tread Lightly!'s educational message, along with its unique training and restoration initiatives are strategically designed to instill an ethic of responsibility in outdoor enthusiasts and the industries that serve them. The program is long-term in scope with a goal to balance the needs of the people who enjoy outdoor recreation with our need to maintain a healthy environment. Tread Lightly!'s award-winning materials, programs and services are solutions to some of the nation's most pressing recreation issues. Individuals and businesses can commit to Tread Lightly! and protect outdoor access by becoming a member at www.treadlightly.org.
About AirMap
AirMap is the world's leading airspace intelligence platform for the drone economy. Industry developers, drone operators, and airspace managers rely on AirMap's airspace intelligence and services to fly safely and communicate in low-altitude airspace. AirMap unlocks safe, efficient, and scalable operations by connecting the world's drones to airspace authorities through an open platform of APIs and SDKs, with integrations by top drone manufacturers and solution providers including 3DR, DJI, DroneDeploy, Matternet, and senseFly. Deployed in the Czech Republic, Japan, Switzerland, the United States, and available in over 25 countries, AirMap leads the industry in delivering technology solutions for UAS Traffic Management (UTM) and U-space to enable safe and responsible drone operations at scale. AirMap supports several drone enablement and research projects globally, including NASA UTM, the European Network of U-space Demonstrators and the U.S. UAS Integration Pilot Programs. To learn more, visit www.airmap.com.