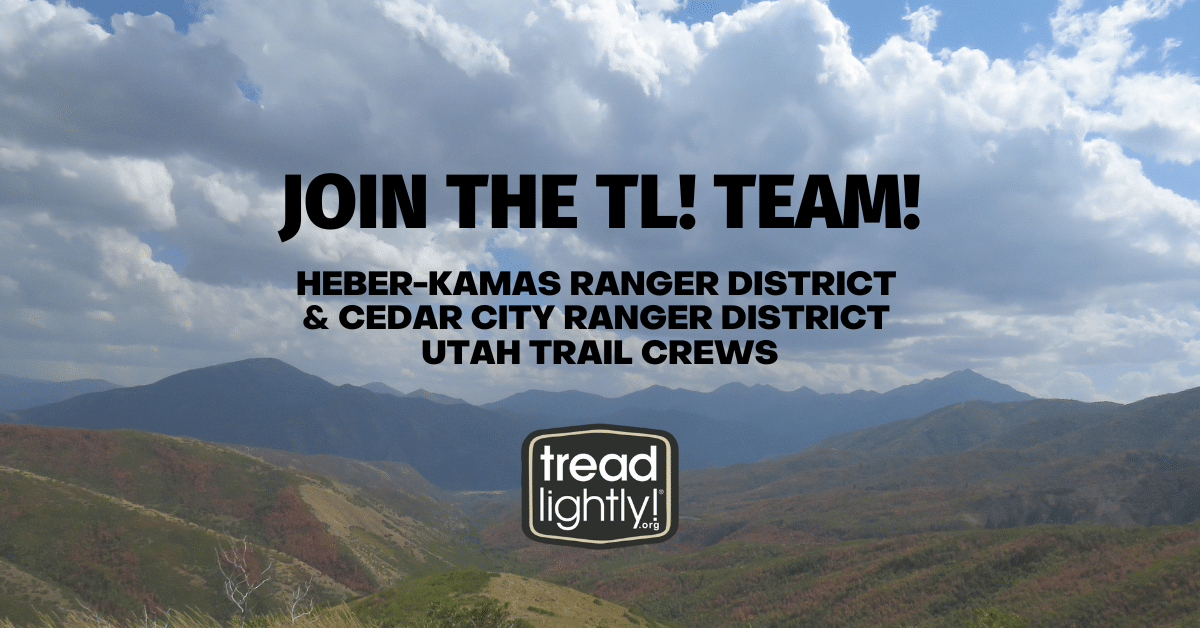 13 Apr

Tread Lightly! Utah Trail Crew

Tread Lightly! is seeking two qualified individuals who are passionate about motorized recreation to help expand the capabilities of the US Forest Service's seasonal work crews in the Heber-Kamas Ranger District and Cedar City Ranger District. These positions will provide public information and interpretive services, including detailed information concerning recreational opportunities, educates OHV users on potential resource damage caused by illegal use and serves as liaison with community organizations and special interest groups to stimulate interest in and utilization of Forest recreation facilities.
These positions are non-exempt and hourly. Please send your resume to evan@treadlightly.org

Tread Lightly! OHV Trail Crew Job Description: Cedar City Ranger District

Introduction
Tread Lightly! is seeking qualified individuals who are passionate about motorized recreation to help expand the capabilities of the US Forest Service's seasonal work crews in the Cedar City Ranger District. This position is non-exempt and hourly. This position is funded through September.

OHV Crew Responsibilities
Assists in the development and the accomplishment of the District's OHV program within the framework of existing plans. Patrols OHV use areas to ensure areas are operated, used, and maintained in accordance with the recreation plan and other appropriate planning documents. May prepare for review by supervisor, environmental documents for OHV projects and special use permits for events. Monitors, inspects, and reports on contracted operations for compliance with contract provisions. Jointly prepares, administers, and inspects OHV outfitter guide permits.

Operates and maintains, in safe working order, assigned vehicles, motorcycles and ATV and trail maintenance equipment and specialized equipment used.

Assists with the enforcement of Off-Highway-Vehicle (OHV) restrictions, including maintenance and posting of regulatory signs and enforcement of restrictions.

Provides public information and interpretive services, including detailed information concerning recreational opportunities. Educates OHV users on potential resource damage caused by illegal use. Serves as liaison with community organizations and interest groups to stimulate interest in and utilization of Forest recreation facilities.

Responsible for preparation of no less than one volunteer group work project.

Physical Demands
The work requires regular and recurring physical exertion related to conservation work requiring walking on rough terrain, climbing steep banks, and jumping ditches and furrows. The duration of the activity contributes to the arduous nature of the job.

Work Environment
This position is largely in the field and outdoors. Candidates may encounter various weather conditions including rain, snow, wind and other environmental conditions.

Skill Requirements
Personal passion for outdoor recreation, especially motorized recreation
Working knowledge of Microsoft Office Suite
Strong oral, written, interpersonal and communications skills
Ability to use hand and power tools
Work collaboratively and positively with all team members
Work independently with general instructions as well as supervising project volunteers.
Program budgeting and expense/time tracking
High levels of personal motivation and professionalism
Engaging verbal communication skills
Drivers License
18 years of age or older
Tread Lightly! OHV Trail Crew Job Description: Heber-Kamas Ranger District
Introduction
Tread Lightly! is seeking qualified individuals who are passionate about motorized recreation to help expand the capabilities of the US Forest Service's seasonal work crews in the Heber Kamas Ranger District. This position is non-exempt and hourly.
OHV Crew Responsibilities
Assists in the development and the accomplishment of the District's OHV program within the framework of existing plans. Patrols OHV use areas to ensure areas are operated, used, and maintained in accordance with the recreation plan and other appropriate planning documents. May prepare for review by supervisor, environmental documents for OHV projects and special use permits for events. Monitors, inspects, and reports on contracted operations for compliance with contract provisions. Jointly prepares, administers, and inspects OHV outfitter guide permits.
Operates and maintains, in safe working order, assigned vehicles, motorcycles and ATV and trail maintenance equipment and specialized equipment used.
Assists with the enforcement of Off-Highway-Vehicle (OHV) restrictions, including maintenance and posting of regulatory signs and enforcement of restrictions.
Provides public information and interpretive services, including detailed information concerning recreational opportunities. Educates OHV users on potential resource damage caused by illegal use. Serves as liaison with community organizations and interest groups to stimulate interest in and utilization of Forest recreation facilities.
Responsible for preparation of no less than one volunteer group work project.
Physical Demands
The work requires regular and recurring physical exertion related to conservation work requiring walking on rough terrain, climbing steep banks, and jumping ditches and furrows. The duration of the activity contributes to the arduous nature of the job.
Work Environment
This position is largely in the field and outdoors. Candidates may encounter various weather conditions including rain, snow, wind and other environmental conditions.
Skill Requirements
Personal passion for outdoor recreation, especially motorized recreation
Working knowledge of Microsoft Office Suite
Strong oral, written, interpersonal and communications skills
Ability to use hand and power tools
Work collaboratively and positively with all team members
Work independently with general instructions as well as supervising project volunteers.
Program budgeting and expense/time tracking
High levels of personal motivation and professionalism
Engaging verbal communication skills
Drivers License