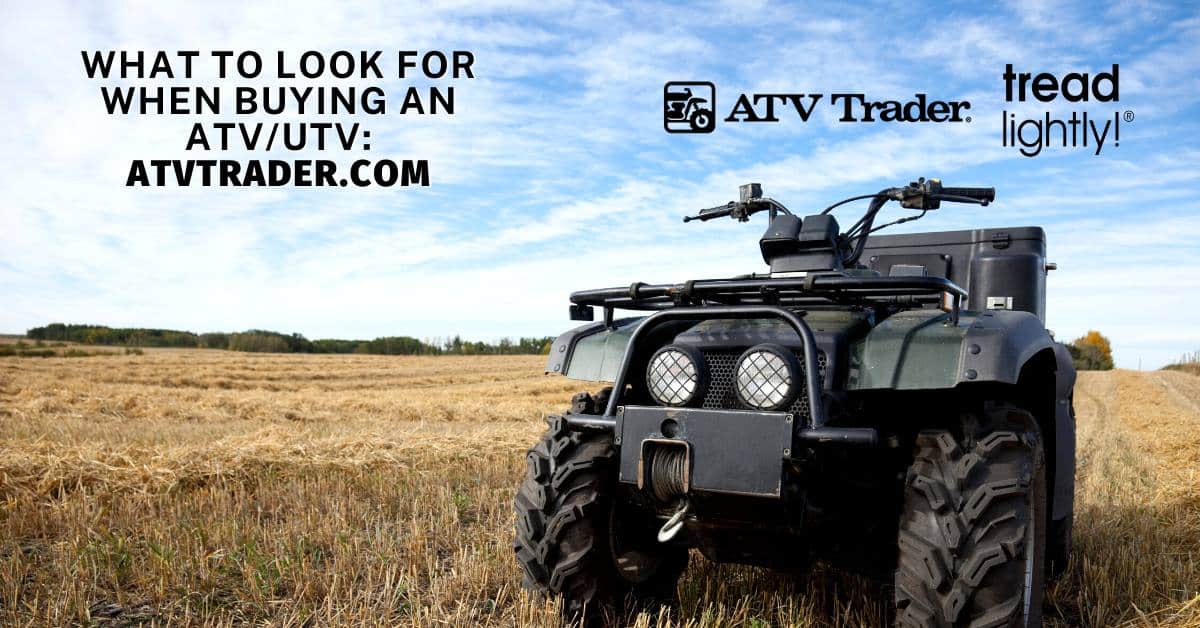 17 May

What to Look for When Buying an ATV/UTV

Power, speed, jumps, and cornering—you want a four-wheeler that's fun to ride off-road, and one that's reliable when you're working. There are a number of factors you should consider when you start shopping, such as your experience level, your budget, and how you plan on using your four-wheeler. ATV Trader is teaming up with Tread Lightly! for more on what to look for when buying an ATV or UTV for your next adventure.

Research Off-Road Vehicles
Get a better idea of what to look for by researching your options and asking yourself questions about what powersport vehicle is best for you. Consider how you'll use the quad or side-by-side, whether that's for work or play, and the type of terrain you will cover. Set your budget, and shop for new or used vehicles. If you decide you want to spend less on a used ATV or UTV, filter your options by price range while you search on online marketplaces like ATV Trader. Consider how much work you want to put into a vehicle, where it can be serviced, and the availability of replacement parts.

It helps to narrow down your choices by the top makes and models on the marketplace, and consider expanding your search outside of your area when you shop from dealers or private sellers nationwide. Read reviews from fellow riders to see what their experience has been like when riding. When you go after a deal on the marketplace, see if the vehicle comes with a warranty. If you're shopping outside of your area, have a plan for transporting your purchase, either with a truck or ATV trailer.

ATV/UTV Size
Find the exact ATV or UTV you want while considering how the size of the quad or side-by-side affects the riding experience. Larger vehicles may be more difficult for maneuverability and control for new riders on off-road terrain, especially when maneuvering around large rocks or trees and going uphill. A smaller quad could benefit new riders, as they usually require less power, speed, and driving controls to operate off-road.

ATV/UTV Engine
Just like the overall size of the ATV or UTV, engine size will affect the driving experience. The engine size will impact control, handling, and speed. If you're a veteran on the tracks or off-road and you're confident in your riding abilities, a 1000-cc engine can give you plenty of power. However, if you're new to quads, consider starting with a 500-cc engine to maintain control of the vehicle as you learn to ride.

ATV/UTV Tires
If you know how you're going to be using your vehicle and what terrain you're riding on, get yourself the right tires for your four-wheeler. Learn how to choose and maintain your ATV tires for your vehicle type, keeping in mind that larger tires might give you more power for off-road trails and slinging mud. The tires fit for your vehicle will help you grip terrain, give you traction, and ground clearance.

If You're Buying a Used ATV/UTV
Buying used brings many advantages in terms of selection, value, and reliability, however, there are a few additional precautions to take to avoid these common mistakes when buying an off-roader.

Vehicle History
Get a better idea of who you're buying from when you search through powersports listings on the marketplace. There should be an accurate description of the vehicle, including any of its damages or imperfections, along with plenty of images or videos, and details on the seller. When you talk to the dealer, they should be able to provide a VIN number that you can match with a title. They should also provide you with a vehicle history report and service records indicated if there's been any previous damage or replacements with parts. When it's time to buy, ask for an invoice, proof of purchase or ownership, and a signed title.

Inspect the ATV/UTV
Before you commit to a purchase, inspect the ATV or UTV in person, including its engine, braking system, tires, and shocks, looking for any damage. Take a test ride and listen for irregular noises that may indicate a serious problem with the vehicle, like rattling. Look for smoke coming from the exhaust when you ride, which might be another serious flaw. Here are some parts to take a closer look at when doing an ATV/UTV inspection:
Engine: Engine leaks are among the most common problems you'll encounter with a used ATV the older it gets and the more hours put on it off-road. Check the valve cover and head gaskets by wiping them with a rag to see if there's any oil residue, and if so, you may need to make a replacement.
Fluids and Oil: At the time of inspection, check the engine and transmission dipsticks to see that the vehicle fluids are at the correct level. If you notice an excess amount of metallic particles in the oil, there may be a vehicle flaw. After a test ride, check the fluids again to see if there's been a dramatic drop in volume; if the machine used up significantly more fluid than you'd expect after a simple test drive, that's a clear sign of a leak.
Tires and Wheels: Inspect the tires closely, looking at the tread for wear, punctures, or cracks, and the sidewalls. Double check the tire pressure with a gauge, consulting the owner's manual for an adequate inflation level. Grip the wheel and rock it to see if the bearings and ball joints are secure; if there's any instability you might lose control and maneuverability with the off-roader and need to make a replacement.
Shocks: Shocks affect stability, so look for moist or oily residue at the top of the shock, which indicates a worn-out part and need for replacement.
CV Boots: Constant Velocity (CV) boots maintain grease within the rotating join affixed underneath the vehicle near the tire. When damaged with tears, water or dirt and debris can damage the joint. Inspect each joint and look for grease on the CV boot, along with other cracks or tears.
Brakes: Inspect the brake pads for visible damage like cracks. Look at the thickness to see if you can determine how worn down they are from use. Look at the rotor for deep gouges and caliper leaks.
Chain and Sprocket: Not all powersports vehicles depend on chains, but if your vehicle does, look for worn down teeth that are thin with large gaps and replace as necessary.
Buying a powersports vehicle is an exciting experience when you consider how you'll be using your vehicle for work and play, off-road and on the job. Just keep in mind these details, step by step, to ensure you're getting the perfect vehicle.
---
ATVTrader.com is an industry-leading online marketplace for buying and selling new and used ATVs, UTVs, golf carts, dune buggies, and other off-roaders. With over 100,000 off-road vehicle listings, ATV Trader is a trusted resource for buyers nationwide. And with over one million site visits every month, no marketplace is more trusted to generate inventory exposure for dealers and private sellers. ATV Trader is a division of Trader Interactive and belongs to the well-known "Trader" family of brands.