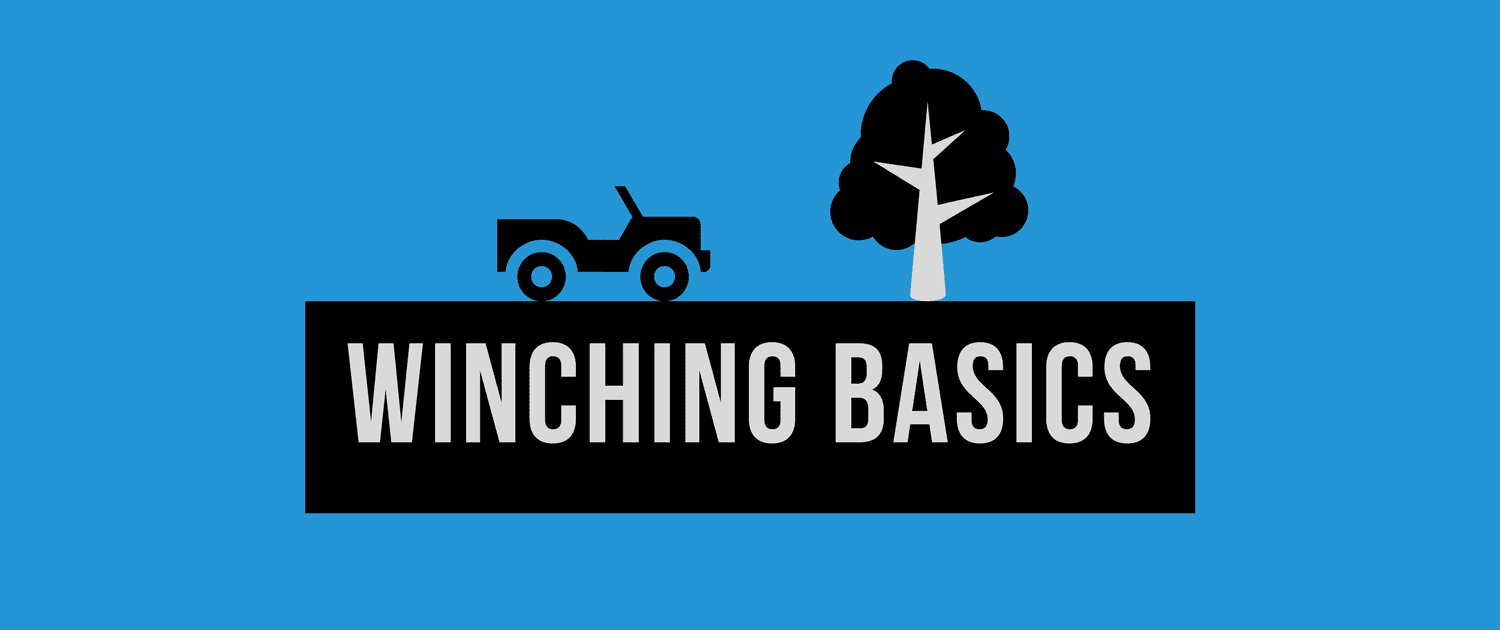 Winching Basics: Protect Those Trees and Be Safe
WINCHING BASICS: PROTECT THOSE TREES AND BE SAFE
By Ken Damico, President, Rompalicious 4×4
STEP 1
Have the following:
A Jeep (preferably a CJ, YJ, TJ or JK – because I'm biased!)
A winch: at least 8,000 lbs. pulling, securely mounted to your front bumper (we used the Warn Powerplant on an
Expedition One bumper)
A tree strap/tree saver (a 8000 lb, 6' x 2″ strap should do)
A D-ring shackle (we used a 20,000 lbs., but a smaller one, rated to the line, would do fine)
A pair of work gloves
Large/heavy towel or cable recovery damper
STEP 2
Next you will want to choose a tree as directly in front of the Jeep as possible. Unspool your winch line until it is to the tree (turn the winch clutch to unspool, put on your gloves and pull that line). Wrap your tree strap around the selected tree (the bigger the tree, the better, but a 5"-6" diameter tree will work fine).
STEP 3
Attach the D-ring shackle to the adjoining ends of the tree strap. Clip your winch to the D-ring shackle.
STEP 4
Drape the towel or damper over the middle of the winch line (this will protect you if the line snaps). Turn the clutch on your winch back to the spool position.
STEP 5
Alright, here's perhaps the most important part: turn on the vehicle, press the spool button (on your winch remote) to take the slack out of the winch line – do not draw it too tight, put the vehicle in neutral, get in or stand behind the open driver side door, and press the spool button on your winch controller.
STEP 6
The winch will begin to take up slack in the line and pull the Jeep forward. Stop often to move the towel/damper to the middle of the line and try, as the winch spools the line, to position the Jeep to take up slack on the spool evenly
(by steering the Jeep).
STEP 7
Once your vehicle is no longer stuck, unhook the winch, D-ring, tree saver, and finish spooling the remainder of the winch line neatly onto your winch. Stow your recovery items safely in the vehicle.
Notice that the tree you responsibly used doesn't have a scratch on it (at least from you) and drive on knowing you did everything right!
Now, know what you're doing on the trail! Tread Lightly!'s Tips for Responsible Four Wheeling
Posted on 27 Apr