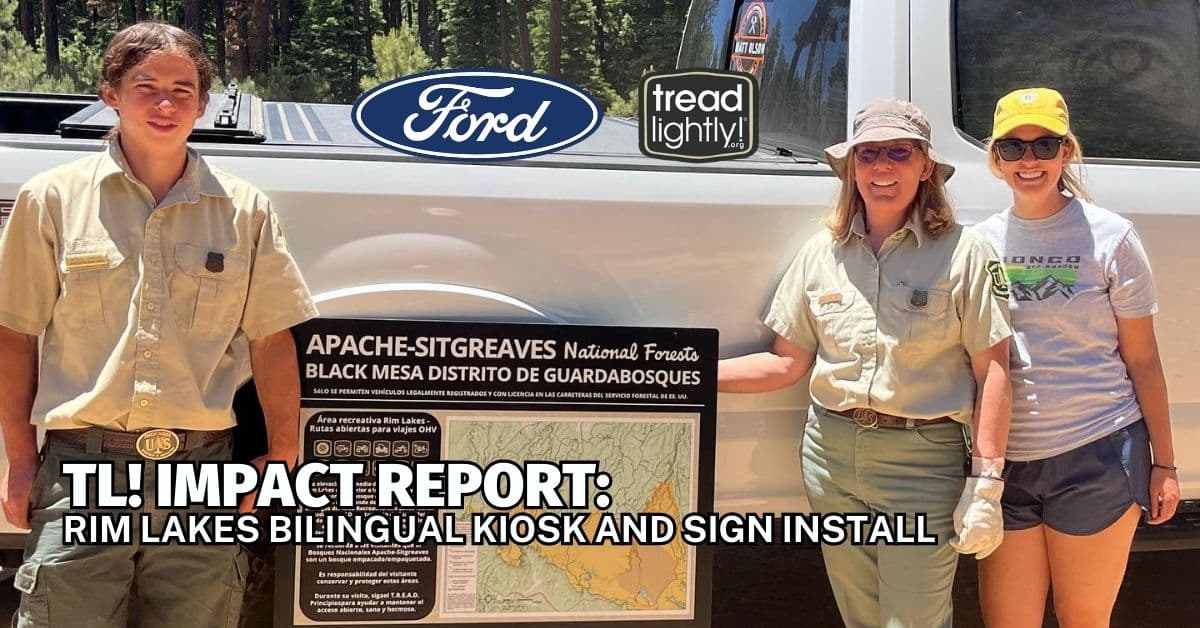 18 Jul

Tread Lightly! Impact Report: Rim Lakes bilingual kiosk and sign install

Project: Rim Lakes Bilingual kiosk and sign install
Location: Arizona

Description: On June 20, 2023, 15 volunteers gathered to help install two kiosks with bilingual signage near high-traffic areas of the Rim Lakes Recreation Area in Arizona. Multiple incidents have occurred in the area resulting in injuries, so it was important to convey safety and responsible recreation areas in multiple languages to help reach a broad audience and reduce the number of incidents.

Thank you to the partners who made this possible:
Ford
Apache-Sitgreaves National Forest
AZ Plasma
Firefly Graphics
"Partnering with Tread Lightly! has given Ford an opportunity to make an impact at a local level while continuing to educate off-road enthusiasts on the importance of trail conservation. Our mission to help our customers experience both safe and sustainable off-road adventures aligns perfectly with the TREAD principles and I am excited to continue this work together." – Jackie Smith, Recreation Experience Owner, Ford Motor Company
"The project we completed through Tread Lightly! was long overdue. Due to restrictions in funding and challenges with procurement, the district had been unable to providing this vital information to date.
The messaging conveyed on the Kiosks provided by Tread Lightly, communicating legal, safe, and environmentally responsible OHV use in both the Spanish and English languages is anticipated to result in fewer injuries and fewer lives lost as well as a reduction to environmental damage caused by irresponsible OHV use around Bear Canyon Lake in the Rim Lakes Recreation Area. We look forward to a continued partnership with Tread Lightly!"- Debbie Roznovak, USFS
Want to get involved in your own Tread Lightly! project? Find upcoming activities, events and grant opportunities at treadlightly.org.