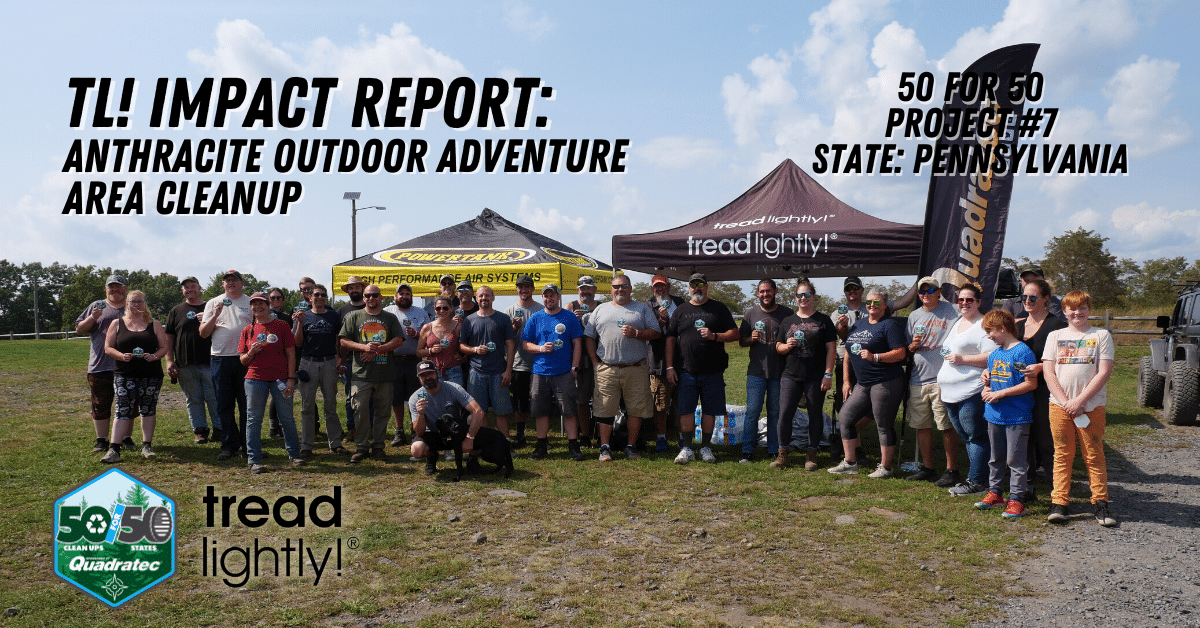 04 Oct

Quadratec 50 for 50 Impact Report: Anthracite Outdoor Adventure Area Cleanup

Project: Anthracite Outdoor Adventure Area Cleanup
Location: Coal Township, Pennsylvania
Project #7/50
State: Pennsylvania

Description: This project was funded by the Quadratec 50 for 50 Initiative. Together with Tread Lightly!, Quadratec will fund a project in each state over 24 months to help improve or enhance public lands and off-road recreation areas.

On September 17, 2022, volunteers gathered to clean up the reclaimed mining area in the Anthracite Outdoor Adventure Area (AOAA) in Pennsylvania. The Jeep Enthusiasts of Eastern Pennsylvania organized the efforts and brought together 51 volunteers to cleanup the area. Together, they removed 3,125 pounds of trash from AOAA.

The volunteers removed historical dumping trash from before the AOAA was established as a reclaimed mining area. They also removed dozens of old tires and other trash from the area, improving over 12 miles of trail.

This was the seventh project of fifty as part of Quadratec and Tread Lightly!'s 50 for 50 initiative. Over the next 2 years, the partners will fund and a project in each of the 50 states that improves public lands or off-road trail access.

Want to get involved in your own 50 for 50 project? Apply for a grant or check out the other projects at treadlightly.org/quadratec50.

Thank you to the partners that supported this project:
Quadratec
Jeep Enthusiasts of Eastern Pennsylvania
Go Fox Adventures
Power Tank
Ale House Bar and Grill
"Our 50 for 50 project is a huge initiative and we love that we were able to have the Pennsylvania event right at one of our local off-road parks — Anthracite Outdoor Adventure Area. Jeep Enthusiasts of Eastern Pennsylvania, along with Evolution Jeep Alliance, Quadratec and Power Tank provided the manpower and we were able to pull over three tons of trash off the trails, as well as nearly 100 tires. Just another perfect example of how each person can do their part to make a large impact in a short amount of time." — Terry Pritchard, Quadratec Staff Writer and Founder of J.E.E.P.
"For me, 'Do Your Part' doesn't just apply to public lands. Off-road parks in this region of Pennsylvania were originally coal mining land. Cleaning up trash dumped after the mines closed or remaining from mining operations helps return these parks to their natural beauty and increases their enjoyment for all riders and drivers."-Dave Barker, Tread Lightly! member and volunteer