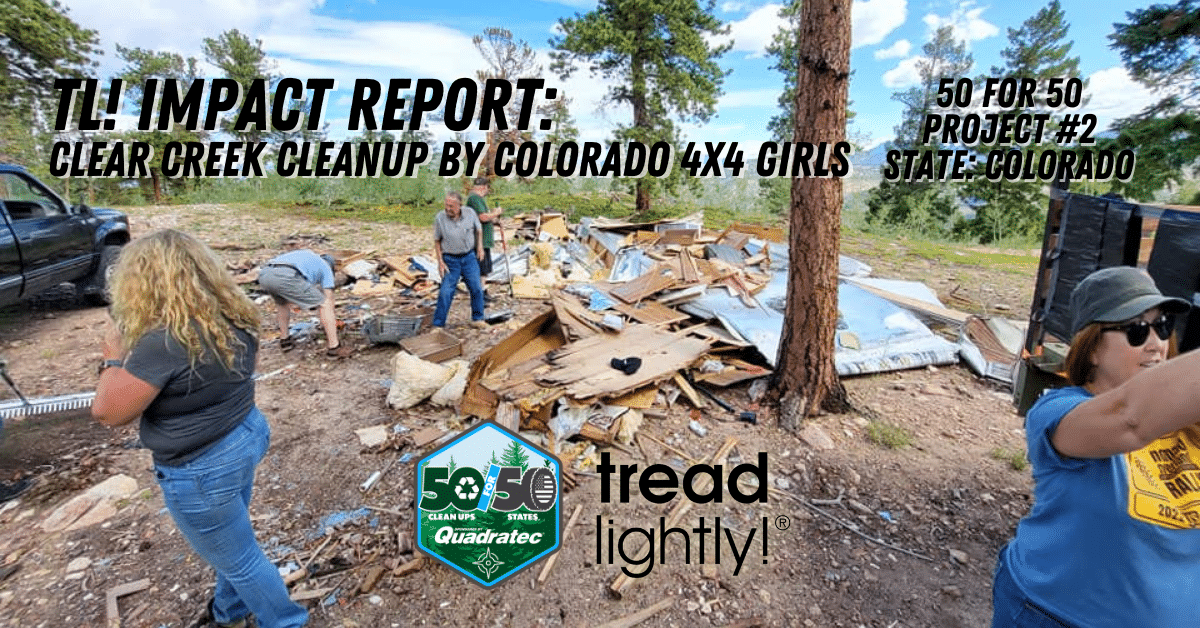 25 Jul
Quadratec 50 for 50 Impact Report: Clear Creek Cleanup
Project: Clear Creek Cleanup
Location: Clear Creek Ranger District, Colorado
Project #2/50
State: Colorado
Description: This project was funded by the Quadratec 50 for 50 Initiative. Together with Tread Lightly! Quadratec will fund a project in each state over 24 months to help improve or enhance public lands and off-road recreation areas.
On July 16, 2022, 25 volunteers with the Colorado 4×4 Girls club removed 1,946 pounds of trash from an adopted trail on the Clear Creek Ranger District on the Arapaho & Roosevelt National Forest in Colorado. Together the volunteers removed an abandoned camper in the area filled with trash.
This was the second project of fifty as part of Quadratec and Tread Lightly!'s 50 for 50 initiative. Over the next 2 years, the partners will fund and a project in each of the 50 states that improves public lands or off-road trail access.
Want to get involved in your own 50 for 50 project? Apply for a grant or check out the other projects at treadlightly.org/quadratec50.
Thank you to all of the partners that supported this project:
Quadratec,
Tread Lightly!
Colorado 4×4 Girls
USFS
Doyle Disposal
JC's British & 4×4
Two Brothers Deli
Colorado Four Wheel Drive Association
Signature Heating and Air

"It could take years for 2,000 pounds of trash to accumulate on public lands in popular recreation areas, but with the hard work of all these volunteers in one day, it was restored. We are so thankful for responsible groups like the Colorado 4×4 Girls club who work hard to keep these areas open for everyone to enjoy." – Eric Ammerman, Director of creative content for Quadratec
"Huge thank you to Quadratec for funding these efforts and making this cleanup possible and to the Colorado 4×4 Girls club for making this project happen. This is a great example of enthusiasts and industry leaders coming together to make a difference on public lands." -Evan Robins, Tread Lightly! National Stewardship Manager
"On July 16th, volunteers from Colorado 4×4 Girls, JC's British, Colorado 4 Wheel Drive Association and more went up to one of the Colorado 4×4 Girls adopted roads to do a cleanup project on a very popular area for users to recreate. A camper had been left over a year ago. The camper had been rummaged through, with belongings scattered all over the forest around it. Recently, someone went to the camper and tore the axles and chassis out from beneath it, leaving the severely damaged shell and all of the things from inside piled in a large heap. With the help of the Clear Creek County Ranger District, the volunteers were able to secure and load all of the trash, drug paraphernalia/needles, camper shell and personal information. Doyles Disposal came to the site with a dump truck to load all of it. Two Brothers Deli helped feed our 25 volunteers.
We are so thankful for the help from Tread Lightly! and especially the grant from Quadretec, without which, we wouldn't have had the funding to dispose of this trash and make this area safe for users, as well as wildlife again."-Catherine Fanaro, Colorado 4×4 Girls Founder