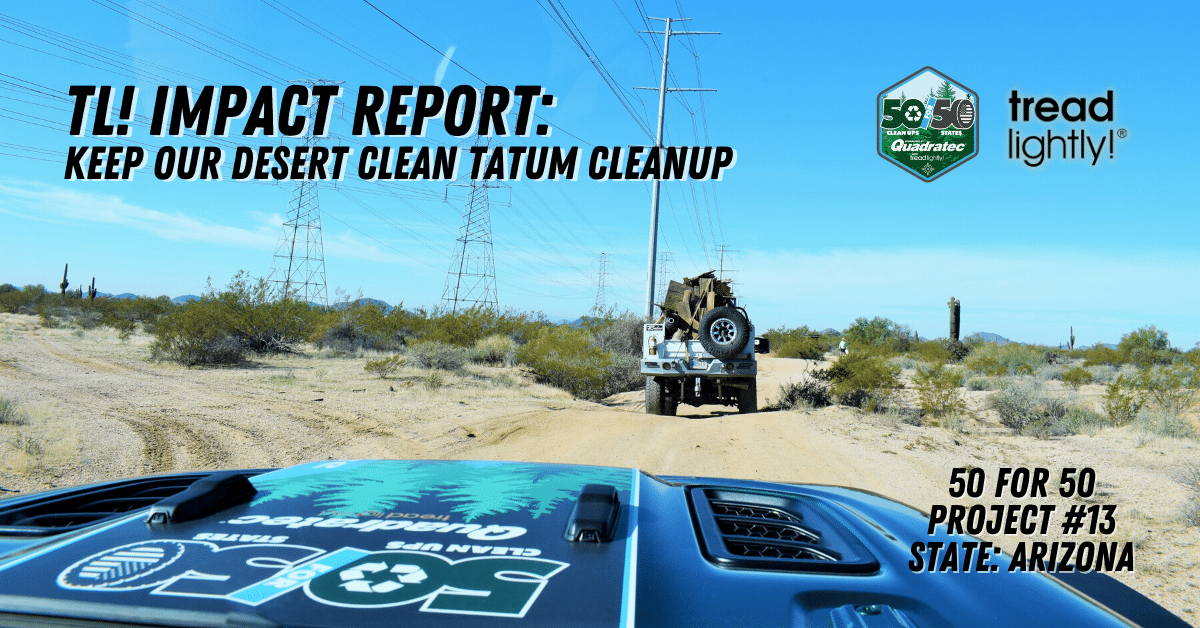 16 Dec

Quadratec 50 for 50 Impact Report: Keep Our Desert Clean Annual Volunteer Appreciation Cleanup Event

Project: Keep Our Desert Clean Tatum OHV Area Cleanup
Location: Project #13/50
State: Arizona

Description: This project was funded by the Quadratec 50 for 50 Initiative. Together with Tread Lightly!, Quadratec has committed to fund a project to improve a off-road trails and public lands in each state by December 2023.

On December 10, 2022, 282 volunteers gathered for Keep Our Desert Clean's (KODC) Annual Volunteer Appreciation and Cleanup Event! The volunteers spent four hours removing trash from the Tatum OHV Area in Arizona. In total, they removed 44,960 pounds of trash, including 155 dumped tires, from the area making this the largest KODC cleanup event to date. The volunteers filled 4 dumpsters and 2 dump trailers.

After the event, volunteers had lunch and participated in a raffle with a variety of prizes from participating partners. To obtain a raffle ticket, participants had to donate a toy for a Toys for Tots drive.

This was the thirteenth project of fifty as part of Quadratec and Tread Lightly!'s 50 for 50 initiative.

Want to get involved in your own 50 for 50 project? Apply for a grant or check out the other projects at treadlightly.org/quadratec50.

Thank you to the following partners for supporting this project:
Quadratec
Keep Our Deserts Clean
Outlaw Adventure Tours
Four Peaks Brewing
KC HiLites
Canyon Coolers
Mountain Hatch
Pit Boss
Arizona Off-Road Attorneys
Underdog Motorsports,
Yotamasters
Ridenow
Rigid, ATC
PCI Race Radios
Pakrax
Desert Toy Shop
Turtleback Trailers
Desert Armor
Duro Bumps
"Tread Lightly! was happy to be a part of Keep Our Desert Clean's yearend cleanup. Our partnership with Quadratec 50 for 50 grants allows us to support organizations like KODC with clean ups and other stewardship projects. We were even lucky enough to be able to have Quadratec's JTE SEMA build on site for the event. The turnout was impressive and the work done made a large impact! It was a good day on the OHV trails! Hundreds of off-road enthusiasts united forces to make a difference and show their appreciation of the public lands we enjoy here in Arizona. We look forward to collaborating again in the future!"-Michelle Ramos, Tread Lightly! Arizona Program Manager
"In less than 5 hours we crushed our goal! Another Epic KODC Cleanup in the books! Hundreds of KODC volunteers worked hard and removed 22.48 Tons of illegally dumped trash out of our beautiful Arizona desert! Once again, bringing new life, joy and freedoms to the area, keeping it enjoyable for years to come! It is a never-ending battle but with the funding from amazing organizations like Tread Lightly! and Quadratec 50/50, along with all the support from volunteers and our community, Anything is Possible!"-Dylan Miller, KODC President
Want to get involved in your own project? Apply for a grant or check out the other projects at treadlightly.org.