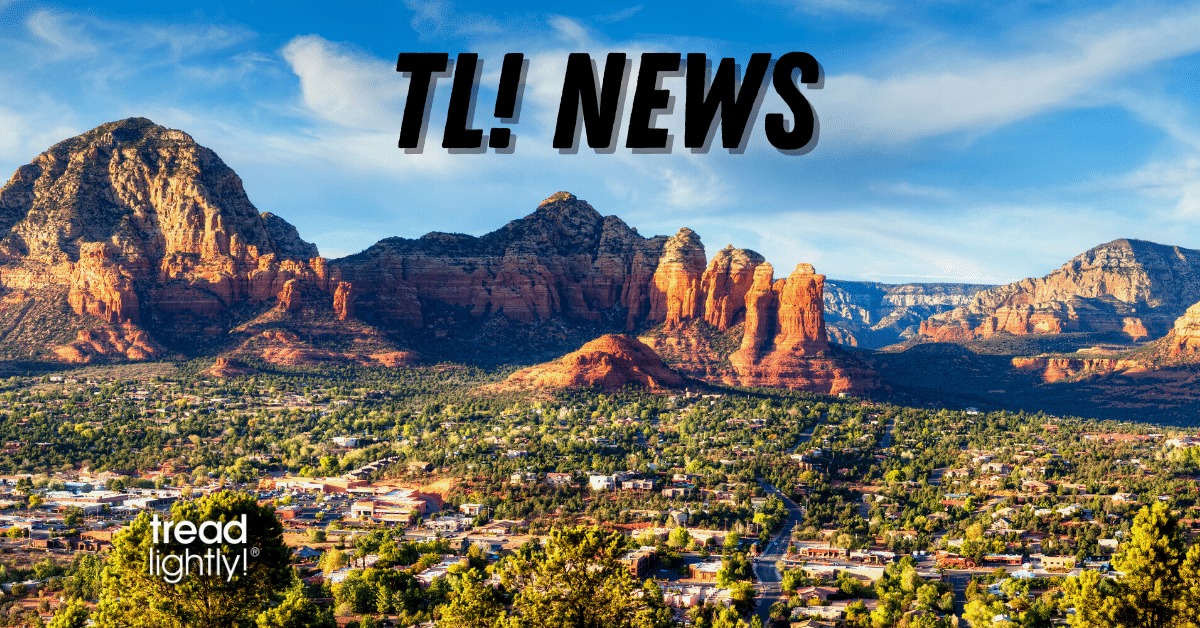 06 Oct

Red Rock OHV Conservation Crew Announces Dedicated Funds for Trail Improvements and OHV Rider Education in Greater Sedona

Sedona, Ariz. (October 6, 2021)  The Sedona Chamber of Commerce & Tourism Bureau is announcing the formation of the Red Rock OHV Conservation Crew (RROCC), a coalition of more than a dozen private industry partners from Cottonwood to Sedona to Flagstaff in partnership with Tread Lightly!, a national nonprofit group dedicated to ethical and responsible motorized recreation, to tackle the effect of increased Off-Highway Vehicle (OHV) use in the region.

Beginning in September, private OHV rental and guided tour companies began dedicating 1% of sales to land preservation and rider education, a commitment that could achieve $400,000 in annual contributions to the US Forest Service Coconino National Forest Red Rock Ranger District.

Participating companies include Arizona Safari Jeep Tours, Barlow Adventures, Outback ATV, Pink Jeep Tours, Rainbow Adventures comprised of A Day in the West, Earth Wisdom, Red Rock Western Jeep Tours and Sedona Off-Road Adventures, additionally Red Rock ATV, Sedona ATV and Vortex ATV.

The collaboration originates from the City of Sedona's OHV Work Group, which brought together the US Forest Service, Arizona State Parks, Arizona Game & Fish, the motorized industry, citizens and nonprofits to discuss the issue back in 2013.

"For years, increased Off-Highway Vehicles (OHVs) use in the Greater Sedona area has affected public lands, cultural assets and residential neighborhoods," said Sedona Chamber of Commerce & Tourism Bureau President and CEO Candace Carr Strauss.

During the pandemic, the number of OHV's registered in Arizona skyrocketed to more than 452,000. This coupled with urbanites flocking to Sedona to socially distance outdoors while enjoying motorized recreation provided by regional businesses raised community concerns.

"Sustaining recreation access on National Forest lands requires a collaborative approach," said Ranger Amy Tinderholt of the Red Rock Ranger District. "Fortunately, our OHV businesses along with Tread Lightly! are ready to do their part to reduce resource impacts, address stakeholder concerns and improve recreation opportunities."

"Red Rock Country is a sought-after destination for motorized recreationists who contribute substantially to our tourism-based economy," said Strauss. "We must strike a balance between the right to recreate on our public lands with environmental stewardship, preservation of cultural heritage and our resident quality of life," she added.

In addition, RROCC is working with Tread Lightly! to produce educational content on public safety, limiting speed, noise and dust, respecting others who use the roads, observing sensitive areas such as the grasslands west of Sedona and leaving historical or archeological sites undisturbed.

"Tread Lightly! is the leading nonprofit spearheading initiatives that protect outdoor recreation assets and opportunities," said Executive Director Matt Caldwell. "We are proud to be part of the Red Rock OHV Conservation Crew, heightening the good stewardship that is part of Sedona's commitment to sustainability."

"In anticipation of a busy weekend with Indigenous Peoples Day on October 11, an official USFS OHV Ambassador Program of participating company staff members will be out on the 525 west of Sedona, engaging one-on-one with riders to promote responsible recreation," said Strauss.

This effort is not an entirely new endeavor however. All businesses permitted to operate on National Forest lands are required to contribute 3% of gross revenue, 95% of which stays on the local Forest for maintenance of existing infrastructure, ground operations, monitoring and administration. Revenue collected from permitted OHV companies, including jeep tours and ATV tours, has helped to support road and trail maintenance, resource protection, projects and administration and monitoring efforts to ensure sustainability of uses into the future.

Follow the continued work of RROCC at rrohvconservationcrew.com.

###


About the Sedona Chamber of Commerce & Tourism Bureau
The Sedona Chamber of Commerce & Tourism Bureau, a 501 (c) 6 nonprofit membership organization, is the collective voice of business in Red Rock Country speaking on behalf of its 735+ member businesses and their 10,000 employees. It is where policy, people and place come together to create community. As the region's official Destination Management Organization, it is the driving force behind Arizona's first officially-adopted Sustainable Tourism Plan (https://visitsedona.com/sustainable-tourism-plan/) advocating for a thriving Sedona Verde Valley tourism economy while balancing sustainability with the responsibility to environmental stewardship and resident quality of life that comes with being in such a special place. To learn more, visit www.sedonachamber.com.

About Tread Lightly!
Tread Lightly! is a national nonprofit organization with a mission to promote responsible, motorized recreation through stewardship programs and ethics education. Tread Lightly!'s educational message, along with its unique training and restoration initiatives are strategically designed to instill an ethic of responsibility in outdoor enthusiasts and the industries that serve them. The program is long-term in scope with a goal to balance the needs of the people who enjoy outdoor recreation with our need to maintain a healthy environment. Tread Lightly!'s award-winning materials, programs and services are solutions to some of the nation's most pressing recreation issues. Individuals and businesses can commit to Tread Lightly! and protect outdoor access by becoming a member at www.treadlightly.org.