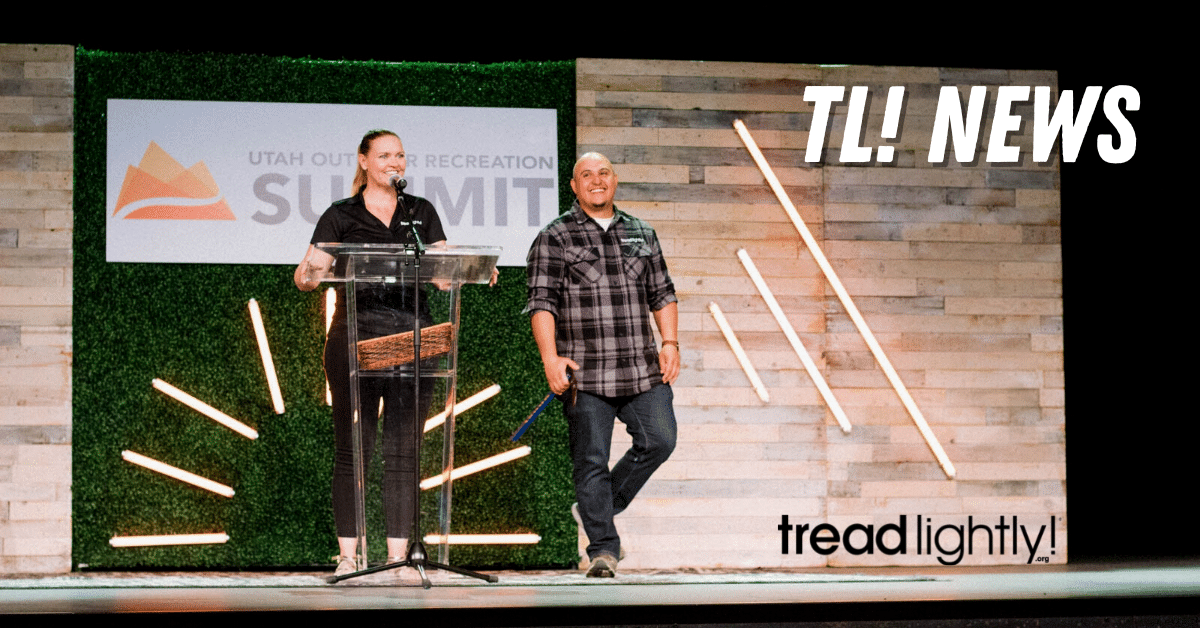 21 Sep
Tread Lightly! awarded 2022 Utah Division of Outdoor Recreation Stewardship Award
NORTH SALT LAKE, UT. (Sept 21, 2022)— Tread Lightly!, a U.S.-based nonprofit dedicated to promoting responsible outdoor recreation through stewardship and educational programs was awarded the 2022 Utah Division of Outdoor Recreation Stewardship Award during the annual Utah Outdoor Recreation Summit in Kamas, Utah.
"We are very honored to receive the 2022 Stewardship Award from the Utah Division of Outdoor Recreation," said Matt Caldwell, Tread Lightly! Executive Director. "Utah is where Tread Lightly! began and has a special place in our team's hearts. We're very appreciative to be recognized for the work we've accomplished across the state to better outdoor recreation."
The Stewardship Award goes to a business or organization that has been innovative, promotes sustainability, works with partners to promote stewardship of the land, air, water and wildlife. They also educate and empower the public on the importance of interrelatedness of a healthy environment, outdoor recreation and a vibrant economy.
"Congratulations to Tread Lightly! for receiving the 2022 Stewardship Award," said Pitt Grewe, Division of Outdoor Recreation Director. "We're thrilled with the relationship we've developed with Tread Lightly! and the work they are doing for Utah's outdoor recreation community and public lands. Their focus on trail stewardship and public land restoration projects over the past 18 months made them stand out as a conservation leader in our state and beyond."
For more information on the Utah Division of Outdoor Recreation,visit www.naturalresources.utah.gov/division-of-outdoor-recreation. To learn more about Tread Lightly! visit www.treadlightly.org.
About Tread Lightly!
Tread Lightly! is a national nonprofit organization with a mission to promote responsible recreation through stewardship programs and ethics education. Tread Lightly!'s educational message, along with its unique training and restoration initiatives are strategically designed to instill an ethic of responsibility in outdoor enthusiasts and the industries that serve them. The program is long-term in scope with a goal to balance the needs of the people who enjoy outdoor recreation with our need to maintain a healthy environment. Tread Lightly!'s award-winning materials, programs and services are solutions to some of the nation's most pressing recreation issues. Individuals and businesses can commit to Tread Lightly! and protect outdoor access by becoming a member at www.treadlightly.org.
For more information contact:
Jerrica Archibald
jerrica@treadlightly.org
801-627-0077