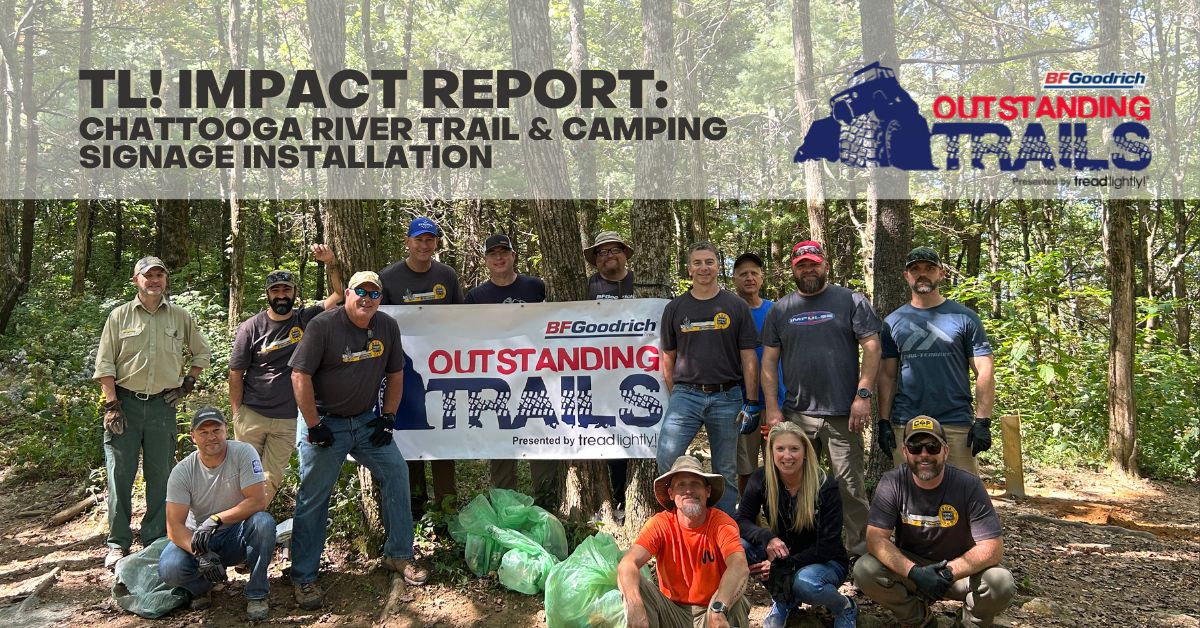 07 Nov

Tread Lightly Impact Report: BFGoodrich® Tires Outstanding Trails: Chattooga River Trail & Camping Signage Installation

Project: Chattooga River Trail & Camping Signage Installation
Location: Georgia

Description: This project was funded by a BFGoodrich® Tires Outstanding Trails grant awarded by Tread Lightly! Each year the Outstanding Trails program provides opportunities for off-roading clubs across America to nominate trails to receive grants for education and preservation. Since 2006, BFGoodrich has awarded more than $200,000 in grants to support organizations dedicated to conserving off-road trails. Past grant recipients have installed educational signage, improved infrastructure, and repaired local off-roading trails.

On October 3, 2023, 13 members of the BFGoodrich Tires Global and US marketing teams headed to Georgia to install six Tread Lightly! ethics signs along popular US Forest roads. In addition, several dispersed campsites received Carsonite posts with stickers highlighting responsible camping recreation tips. While traversing the forest roads, several posts were installed to block access to unauthorized user made trails and to pick up trash. In total, 175 pounds of trash were cleaned from the area. This work was all part of activity within the Chattahoochee-Oconee National Forest and the Chattooga River Ranger District.

Thank you to the partners that made this possible:

· BFGoodrich Tires Outstanding Trails

"It is important to BFGoodrich that we help protect our public lands to be enjoyed by future generations. That is why several members of the BFGoodrich team participated in a clean-up day in the Chattooga River District, supporting our Outstanding Trails program."-Harold Phillips, Global General Manager for BFGoodrich

Want to get involved in your own Tread Lightly! project? Find upcoming activities, events and grant opportunities at treadlightly.org.