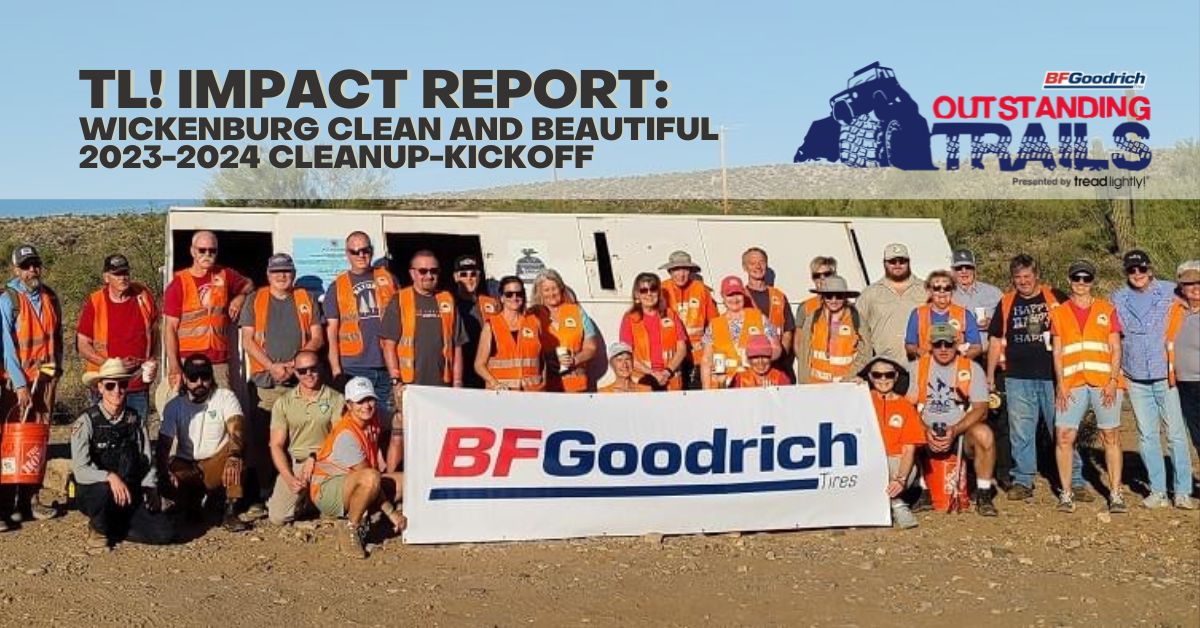 07 Nov

Tread Lightly Impact Report: BFGoodrich® Tires Outstanding Trails: Wickenburg Clean and Beautiful 2023-2024 Cleanup-Kickoff

Project: Wickenburg Clean and Beautiful 2023-2024 Cleanup-Kickoff
Location: Arizona

Description: This project was funded by a BFGoodrich® Tires Outstanding Trails grant awarded by Tread Lightly! Each year the Outstanding Trails program provides opportunities for off-roading clubs across America to nominate trails to receive grants for education and preservation. Since 2006, BFGoodrich has awarded more than $200,000 in grants to support organizations dedicated to conserving off-road trails. Past grant recipients have installed educational signage, improved infrastructure, and repaired local off-roading trails.

On October 21, 36 volunteers from the Wickenburg Conservation Foundation tackled the Box Canyon area of Arizona for a cleanup effort supported by BFGoodrich Tires Outstanding Trails. The day started off with coffee and donuts provided by the local Starbucks and concluded with a lunch for volunteers. The group covered roughly 50 miles of riverbed, roads and camping areas and filled a dumpster with 3,500 pounds of trash. The project day was supported by Arizona Game and Fish as well as representatives from BLM.

Thank you to the partners that made this possible:

· BFGoodrich Tires Outstanding Trails

· Wickenburg Conservation Foundation

· BLM Arizona

· Arizona Game and Fish

· City of Wickenburg

· Happy Trails Adventure Company

"Thanks to everyone who helped kickoff this season's Clean & Beautiful program at Box Canyon and surrounding areas and to our sponsors: BLM, AZGFD, Tread Lightly, Starbucks, TL Speedshop and BFGoodrich. We are making a difference!" – Judy Rice, Wickenburg Conservation Foundation

"Such a great turnout for the event from community leaders, BLM, locals, and even some "snowbirds", all showcasing our shared passion for the Arizona desert's natural beauty. This cleanup served as a powerful reminder of our collective commitment to preserving and protecting our public lands, particularly those that are an integral part of the great town of Wickenburg. We are grateful for the opportunity to work together to ensure that these lands remain clean and pristine for generations to come. We look forward to continued collaboration to maintain the natural beauty of Box Canyon." – Hunter Pauling, Wildlife Manager AZGFD

"Oct 21st was the first Wickenburg Clean and Beautiful Box Canyon cleanup since last spring.  It was a great turnout of volunteers and it is wonderful how the local businesses have become involved by supporting the pickups in various ways like coffee, doughnuts, and helpers.  This project included funding support from BFGoodrich Tires and their Outstanding Trails program that helped to fund supplies and even lunch for the volunteers.  It is also great to have BLM and Game and Fish Department staff join in to support what we are doing.  It had been several months since our last cleanup, and the amount of trash was not overwhelming, possibly a good sign that our presence and the continued efforts of volunteers and ambassadors talking to people and handing out trash bags is having an ongoing impact." – Linda Maloney, volunteer

Want to get involved in your own Tread Lightly! project? Find upcoming activities, events and grant opportunities at treadlightly.org.