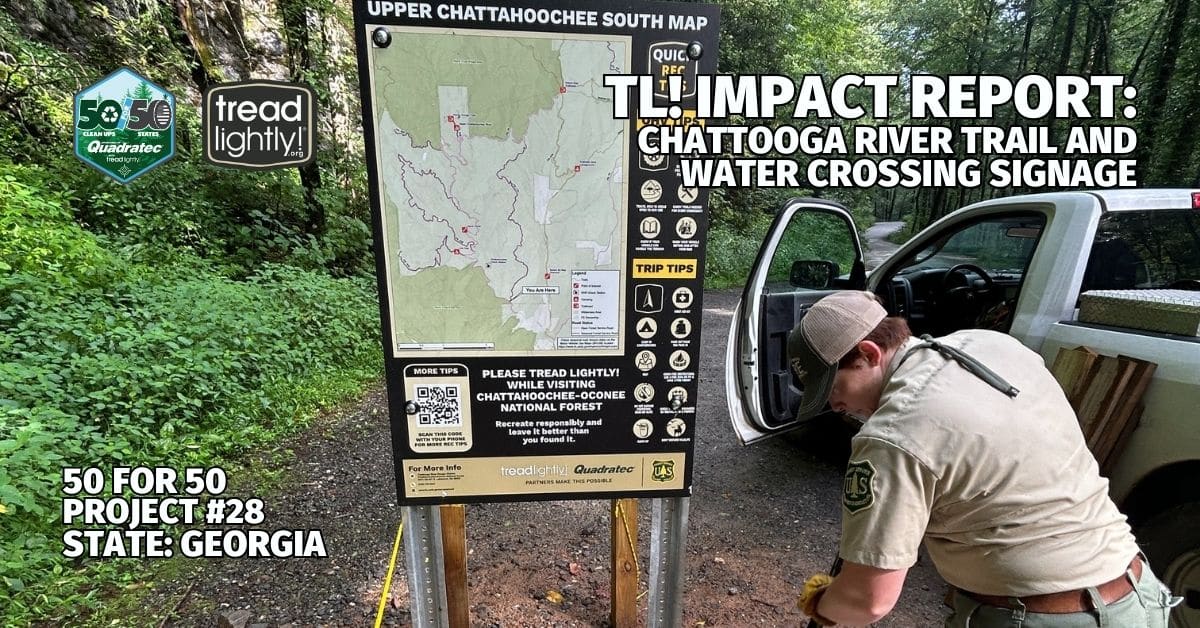 08 Aug

Tread Lightly! Impact Report: Chattooga River Trail and Water Crossing Signage

Project: Chattooga River Trail and Water Crossing Signage
Project #28/50
State: Georgia

Description: This project was funded by the Quadratec 50 for 50 Initiative. Together with Tread Lightly!, Quadratec has committed to fund a project to improve off-road trails and public lands in each state over 24 months.

July 21, 2023 was the culmination of a 6-month signage project within the Chattooga River District of the Chattahoochee-Oconee National Forest. A total of 16 new signs are now providing trail location and responsible riding ethics within this beautiful national forest.

Three volunteers helped install educational signage at the entrance points to the forest on three separate forest roads. The signs displayed a map of the forest road, the rider's current location, the Tread Lightly! T.R.E.A.D. principles, and highlighted which vehicles are permitted on the forest roads. These three roads are accessible by licensed vehicles from motorcycles to full-size 4×4's and have numerous locations for dispersed camping sites.

There forest has two areas where roads cross through rivers and too often vehicles have been spotted driving up the river or parked in the water. The Quadratec 50 for 50 funding allowed for the creation of signage for both sides of the river that informs riders of proper water crossing behavior in order to minimize impact to the fish and other species who make the river their home.

Thank you to the following partners for their support:
Quadratec
US Forest Service
"The Chattooga River Ranger District of the Chattahoochee National Forest is very appreciative of Tread Lightly!, the Quadratec 50 for 50 program and their assistance in creating and installing signage on Tread Lightly! principles. The signage we received will assist visitors in recreating on the forest in a safe and responsible manner and will help us mitigate natural resource damage on public lands. It is because of the help of partners such as Tread Lightly!, and corporate sponsors such as Quadratec that help fund their efforts, that we are able to do much of the work that we do. We look forward to continuing our relationship with Tread Lightly! to do more good things to provide recreational opportunities to the public. Thank you!" – Boyd Logan, Forestry Technician (Recreation)
Want to get involved in your own Tread Lightly! project? Find upcoming activities, events and grant opportunities at treadlightly.org.