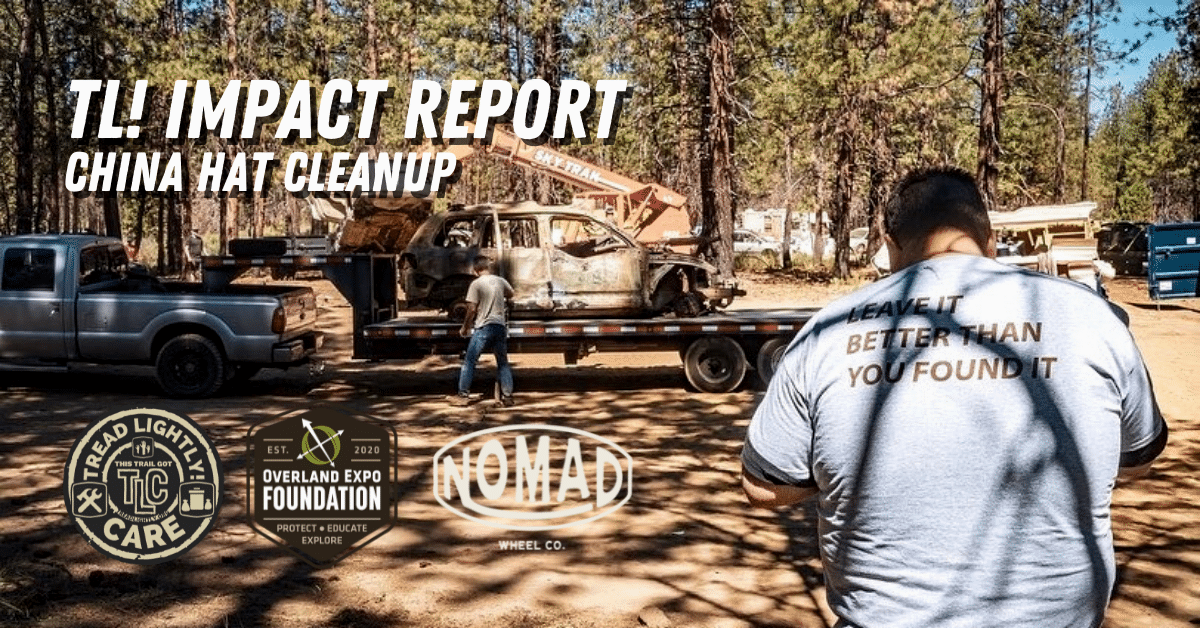 11 Aug
Tread Lightly! Impact Report: China Hat Cleanup
Project: China Hat Cleanup
Location: Bend, OR
Description: The China Hat Cleanup project is one of four Tread Lightly! stewardship projects funded by the Overland Expo Foundation in conjunction with Overland Expo events. The Overland Expo Foundation is dedicated to creating partnerships with people and organizations that protect and promote the interests of the overlanders, helping provide education and expert resources that enrich the community, and encouraging responsible 4x vehicle- and motorcycle-based exploration of our world.
Beginning on July 11, 2022, 105 volunteers removed 131,780 lbs of trash from the China Hat area in the Deschutes National Forest near Bend, Oregon. This project was a huge undertaking and many volunteers put in over 20 hours of work over a two-day period. Together they removed debris, abandoned vehicles and old tires from the area. The project was organized by PLS Bend and Tread Lightly! in conjunction with the Overland Expo PNW event. Thank you to the Overland Expo Foundation and Nomad Wheels for funding this important work.
Thank you to the following partners for their support: The Overland Expo Foundation, Nomad Wheels, PLS Bend, The Deschutes National Forest, Discover Your Forest, Discover Northwest, Matrix Integrated-Bend, Technique Vehicle Outfitters, Oregon Adventure Trucks, SOLV Energy, Kirby Nagelhout Construction, Arbor 1 Tree Service, Gasper Construction, WT Equipment Rentals, Casca de Heavy Rescue, Boneyard Beer, Miller Lumber Company, Les Schwab Tires, Rugged Radios, and Bend Breakfast Burrito.
Want to get involved in your own Tread Lightly! project? Find upcoming activities, events and grant opportunities at treadlightly.org.
"The Overland Expo Foundation is excited to see so many people come together and remove an incredible amount of trash from the China Hat OHV Area. It's eye-opening to see the results and recognize its impact in keeping these areas accessible to the overland community. We truly appreciate the efforts of such stellar organizations as Tread Lightly, PLS Bend, and the 105 volunteers who helped!"-Alison DeLapp, Overland Expo Foundation Executive Director
"It truly felt like a groundbreaking even and a moment where people from all different walks truly started to see some things from the other side of the fence and from a perspective outside their own… it's incredible to be part of something so positive, with so many people participating and working towards common goals in outdoor recreation and stewardship."-Jeremy Evans, PLS Bend