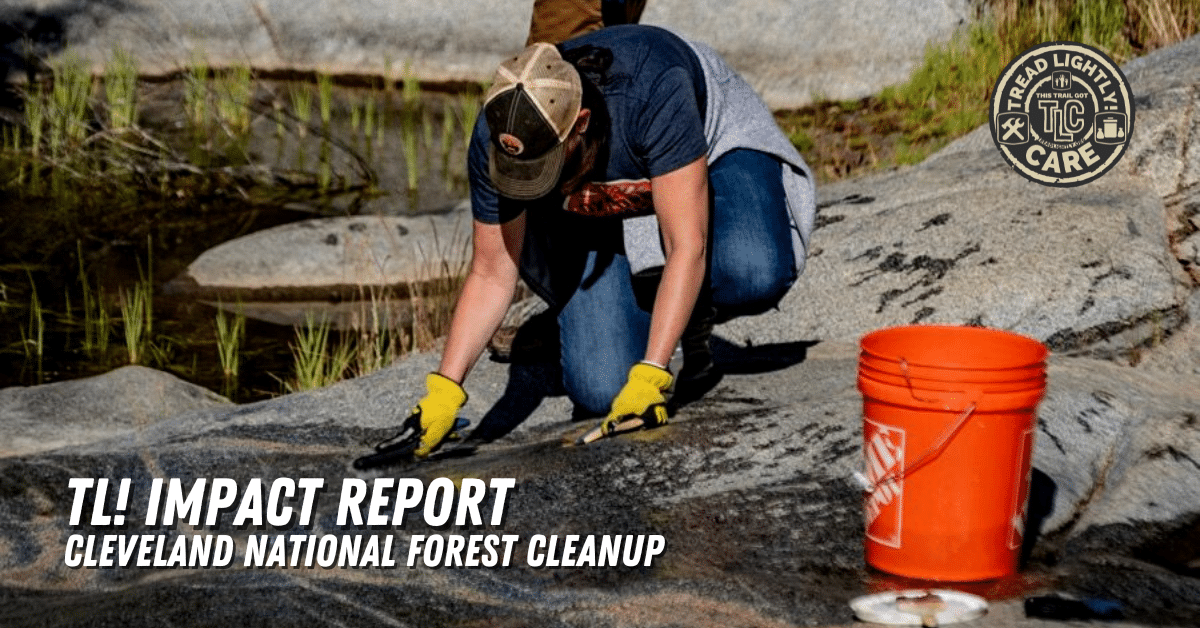 20 Jun

Tread Lightly! Impact Report: Cleveland National Forest Cleanup

Tread Lightly! Impact Report: Cleveland National Forest Cleanup

Project: Cleveland National Forest Cleanup and Graffiti Removal
Location: San Diego, CA

Description: On April 23, 2022, 14 volunteers worked together to remove trash and graffiti from the Cleveland National Forest in San Diego, California. The project was organized by  Rigs&Brews, which uses stewardship projects and socializing events to bring the local OHV community together to connect and to give back to public lands. Rigs&Brews fundraises for Tread Lightly! and other groups conserving OHV access.

Thank you to the volunteers and partners who showed up to do their part to leave this area better than they found it!

Thank you to our supporting partners: Rigs&Brews, USFS, Deadman Offroad, Duckfoot Brewing , Bang, Botas Jerky, Shower Pouch, Get Rigged and Trail Recon

"Working as a team to clean up trash, remove graffiti and then look back at what we all accomplished was amazing. The mission statement for Rigs&Brews is bringing the offroad community together for education, charitable giving, and camaraderie.  I can't think of a better organization to work with. There are so many more people now exploring the outdoors. I feel it's important to help educate for the safety of others and the protection of our lands." Michelle Chase, Rigs&Brews


"Working in collaboration with partners and community groups is critically important to the Forest Service's success in sustaining the health and beauty of our landscapes and recreational areas, especially in an urban environment. Having dedicated, caring volunteers from organizations like Rigs & Brews and Tread Lightly working shoulder to shoulder with our employees to clean up trash and graffiti makes a big difference. "In this event, volunteers from Tread Lightly and Rigs & Brews made a significant impact at heavily used recreation areas along Orosco Ridge and Black Canyon pools by picking up trash and removing graffiti. "We are grateful to those who participated and look forward to collaborating on future projects with Tread Lightly!" Amy Reid, Palomar District Ranger


Want to get involved in your own Tread Lightly! project? Find upcoming activities, events and grant opportunities at treadlightly.org.