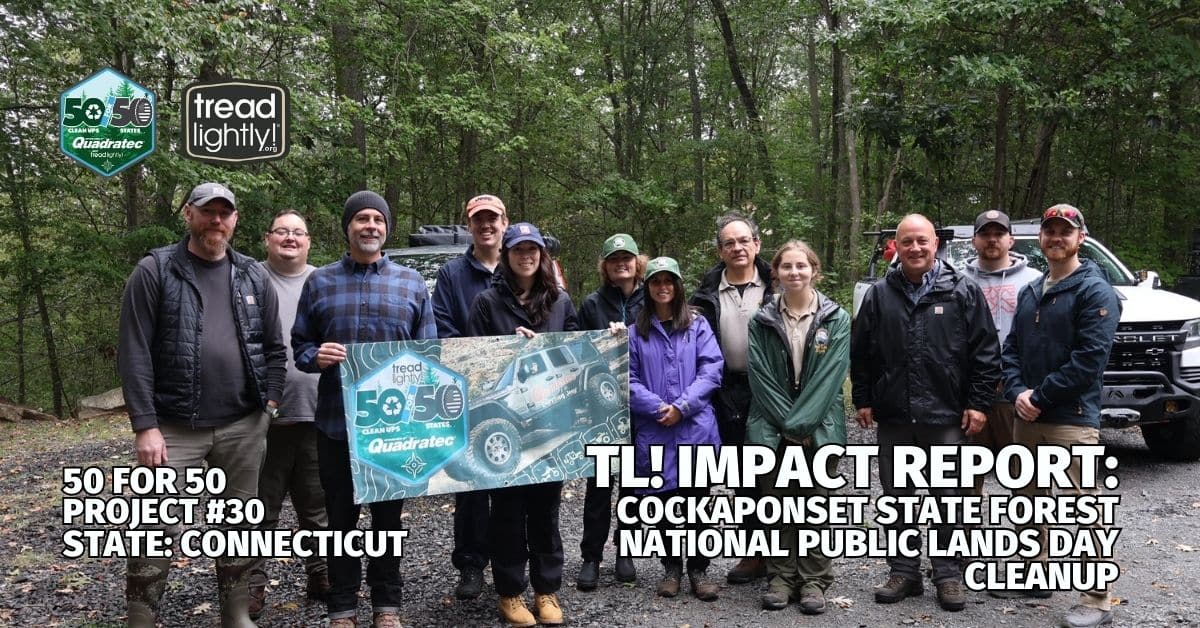 25 Oct

Tread Lightly! Impact Report: Cockaponset State Forest National Public Lands Day Cleanup

Project: Cockaponset State Forest National Public Lands Day Cleanup
Project #30/50
State: Connecticut

Description: This project was funded by the Quadratec 50 for 50 Initiative. Together with Tread Lightly!, Quadratec has committed to fund a project to improve off-road trails and public lands in each state over 24 months.

On National Public Lands Day, September 23, 2023, off-road enthusiasts gathered at the Cockponset State Forest in Connecticut to leave better than they found it. Together 13 volunteers removed 2,655 pounds of trash and improved eight miles of forest road. They cleaned up four recreation sites in the forest and removed burned tires, old mattresses, multiple pallets, and vehicle debris.

Thank you to the following partners for their support:

· AT4OverlandBound

· FF Specialty Vehicles

· Varsity Overland

· Connecticut Forestry Department from Cockaponset State Forest

"Keeping our forests and trails clean is paramount in a state that struggles to provide public land access. Like many New England areas, CT suffers from an increasingly popular trend of trail misuse and inappropriate trash dumping. Patterns such as these affect not only our ability to enjoy wild spaces but also the health of the flora and fauna who call this place home. If we want to see a difference, we need to step up and put in the work." -Ken Landry, co-organizer

"Happy to be part of the clean up! #TrashLeaveTrash. Let's not do that." -Tread Lightly! volunteer

"Motorized recreational opportunities aren't exactly plentiful in most of New England, so seeing abuse happening to recreation areas and forest roads in Cockaponset State Forest is particularly concerning. Ken Landry and Jeremy Selden came to our New York 50 for 50 project in Finger Lakes National Forest and told me about an opportunity they wanted to explore here in the forest, and we worked on getting this project together over the summer, just in time for National Public Lands Day. Tread Lightly! members like Ken and Jeremy seeing something that needs attention and stepping up to fix the issue are what it is going to take to make sure we have opportunities left for future generations. There is already discussion about making this an annual event because of the success of this inaugural project." Scott Ammerman, Tread Lightly! Program Manager

Want to get involved in your own Tread Lightly! project? Find upcoming activities, events and grant opportunities at treadlightly.org.