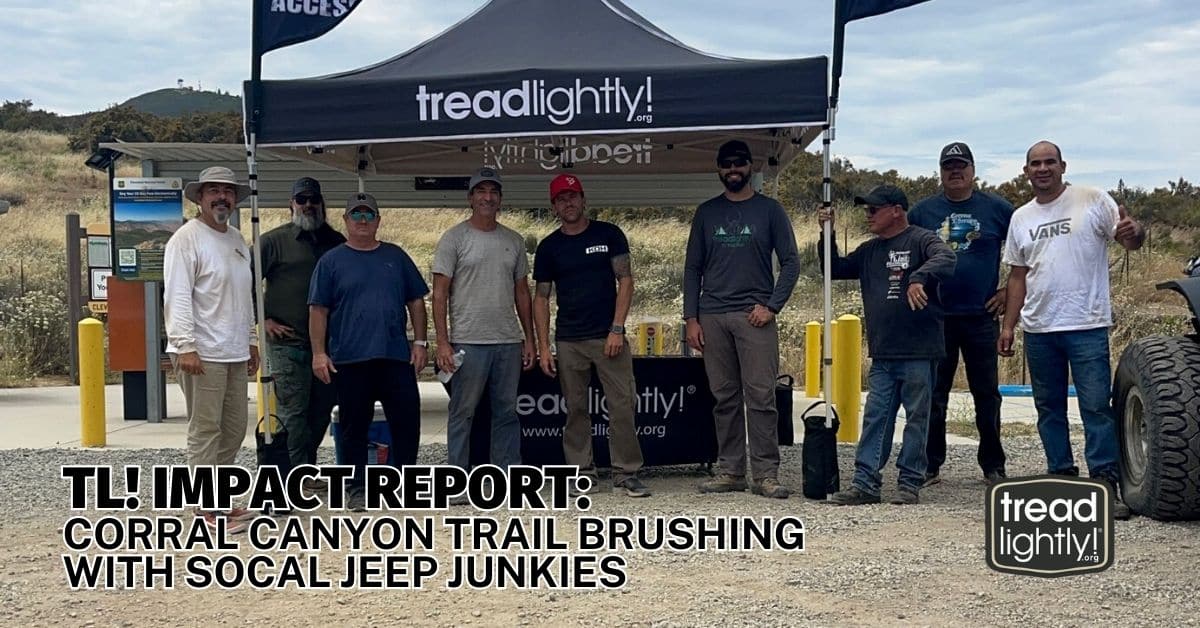 28 Aug

Tread Lightly! Impact Report: Corral Canyon Trail Brushing with SoCal Jeep Junkies

Project: Corral Canyon Trail Brushing with SoCal Jeep Junkies
Location: California

Description: On July 22, 2023, a group of 13 volunteers from the SoCal Jeep Junkies rallied together in the face of triple digit heat to make a difference for public lands. Temperatures were already in the mid-80s when the group met at the Four Corners Staging Area of the Corral Canyon OHV Area in the Cleveland National Forest, located an hour drive east of San Diego, California.

After a safety briefing from the Descanso District Ranger, volunteers loaded up on water, loppers and gloves before heading out to tackle brushing on Gunslinger and Espinoza trails. Volunteers were able to improve six miles of trails in four hours, work that would have taken the Descanso Ranger District several days to accomplish.

Thank you to the partners who made this possible:

"As a San Diegan and Admin for the SoCal Jeep Junkies, I was searching for a method to not only expose some of our members to the T.R.E.A.D. Principles, but also bring them out to the hidden jewel that is Corral Canyon. When you don't want to leave town or want to test newer off-roaders, Corral Canyon is the place to go. The SoCal Jeep Junkies have a vast and diversified membership, and we take pleasure in educating newer off-roaders, so collaborating with Tread Lightly! became a priority for us. 13 volunteers worked to clear de-brush and remove litter from two major trails. The event was so welcomed that we have scheduled cleanups every other month around Southern California to give more and more members the chance to contribute to the community. A Tread Trainer class is also planned for September for the club's administration. I enjoy planning these events with Brandon Alvarez, and I look forward to continuing a long working relationship with him and Tread Lightly!"-Jeremiah Ayers, SoCal Jeep Junkies

Want to get involved in your own Tread Lightly! project? Find upcoming activities, events and grant opportunities at treadlightly.org.