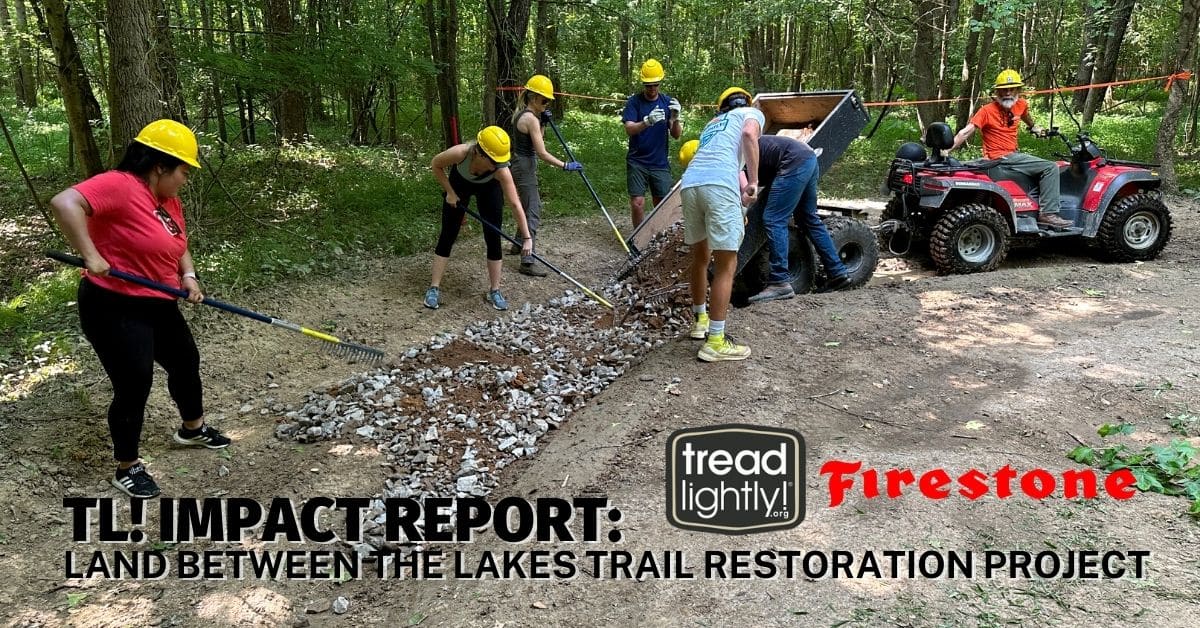 10 Jul

Tread Lightly! Impact Report: Land Between the Lakes Trail Restoration Project

Project: Land Between the Lakes Trail Restoration Project
Location: Kentucky

Description: On June 16, 2023, 25 volunteers gathered for a trail restoration project at the Turkey Bay OHV Area in the Land Between the Lakes National Recreation Area in Kentucky. Together volunteers installed a new trailhead kiosk at the Turkey Trot Youth Trail, new Caronsite trail signage throughout the area and repaired the trail with new aggregate.

Turkey Bay OHV Area provides designated OHV and primitive trails for OHV camping opportunities. The area consists of approximately 100 miles of primary, secondary, and tertiary trails for many different OHV riding experiences.

This project was made possible thanks to funding and volunteer work from Firestone Tires. Volunteers went above and beyond on this project, accumulating approximately 125 volunteer hours to get this important trail improvement work completed.

Thank you to the following partners for their support:
USFS
Klean Freak
Firestone
Friends of Land Between the Lakes
Want to get involved in your own Tread Lightly! project? Find upcoming activities, events and grant opportunities at treadlightly.org.
"Thank you to Firestone Tires for making this amazing project possible. And thank you to the entire staff from Land Between the Lakes for allowing us to come and help improve the OHV recreation opportunities at their beautiful location." – Matt Caldwell, Tread Lightly!, Executive Director
"The Land Between the Lakes restoration project provided the perfect opportunity to showcase Firestone's partnership with Tread Lightly! in action and the impact we can make together to improve and protect America's trails for future generations. In addition to supporting our local community, this experience offered an incredible team building opportunity for our Firestone teammates to come together to promote responsible and sustainable off-road recreation in the area. We're looking forward to many more restoration projects like this in the future with the Tread Lightly! team."– April Jones, Firestone