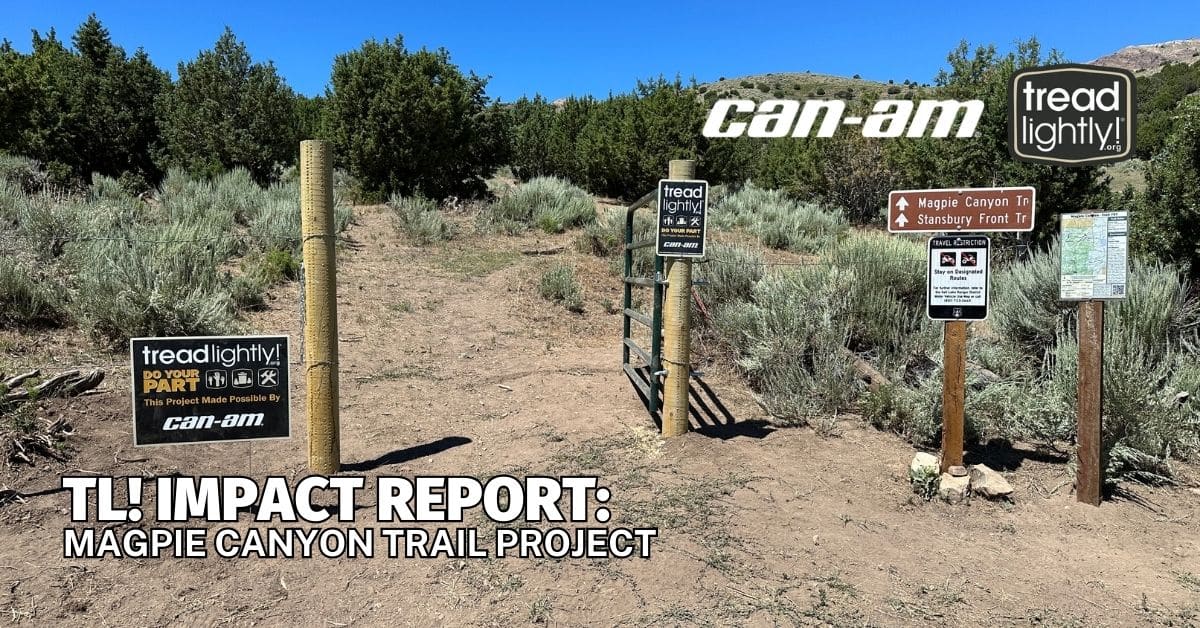 08 Aug

Tread Lightly! Impact Report: Magpie Canyon Trail Project
Project: Magpie Canyon Trail Project
Location: Utah
Description: This project was funded by Can-Am Off-Road. Can-Am has committed to funding twelve trail stewardship projects in the state of Utah in partnership with Tread Lightly! to help maintain and improve access to public lands and off-road trails.
On July 15, 2023, four volunteers installed signage and a gate at Magpie Canyon in the Stansbury Mountains in Utah. The new gate accommodates a 50" or less restriction for off-road vehicles. The signage will help educate riders in the area about responsible off-roading by providing directional information, updated maps and information about gate access and where certain vehicles are allowed to ride in the area.
Thank you to the partners who made this possible:
Can-Am Offroad
United States Forest Service
"Our work on the Magpie Canyon trailhead is all about improving user access to our motorized trails in the Stansbury Mountains. We installed a new directional sign, map, and access gate so that people know exactly where they should go. This helps them to stay on the correct trail and improves our trail for the rancher in the area, as the gate and map reduce conflict with cows and gives one single access point through the cattle fence. We're grateful to Tread Lightly! for coming out and helping us with this important project! We'll continue doing similar motorized access projects throughout the summer."-Matthew Hales, US Forest Service
"We love when we have the opportunity to improve motorized recreation access. We were happy to partner with the USFS to start the process to improve the trailhead at Magpie Canyon."-Matt Caldwell, Tread Lightly! Executive Director
Want to get involved in your own Tread Lightly! project? Find upcoming activities, events and grant opportunities at treadlightly.org.