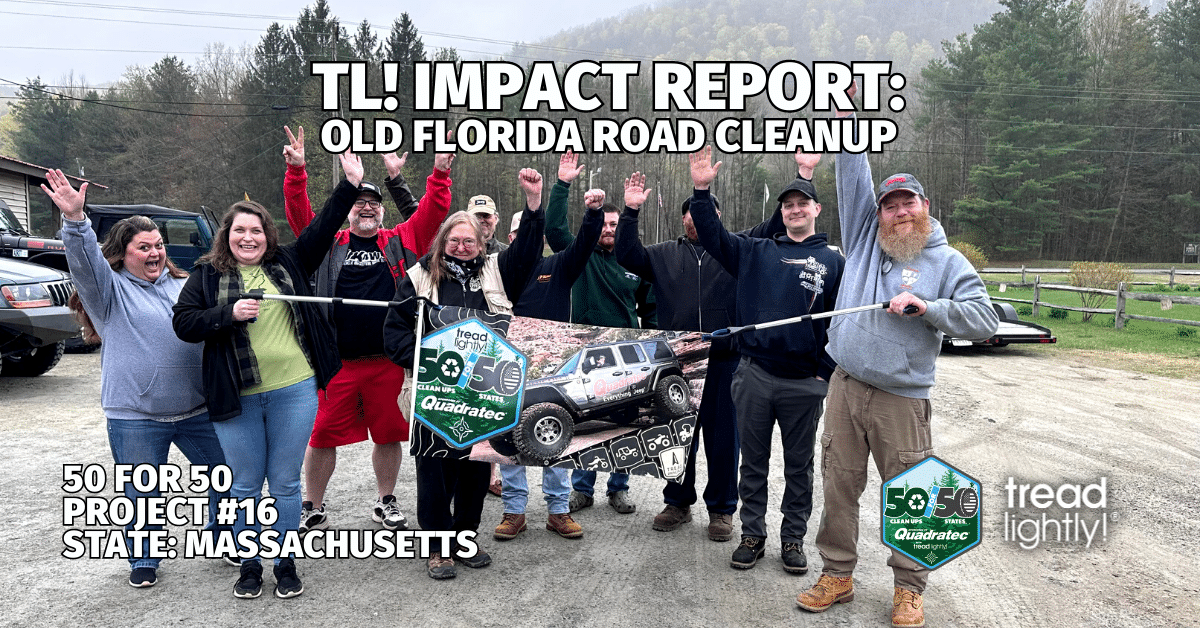 27 Apr

Tread Lightly! Impact Report: Old Florida Road Earth Day Cleanup

Project: Old Florida Road Earth Day Cleanup
Project #16/50
State: Massachusetts

Description: This project was funded by the Quadratec 50 for 50 Initiative. Together with Tread Lightly!, Quadratec has committed to fund a project to improve off-road trails and public lands in each state by December 2023.

On April 22, 2023, 12 volunteers gathered for an Earth Day cleanup of the Old Florida Road trail hosted by the Mohawk 4×4 Adventures club in Massachusetts. Together, they removed dumping debris, old tires and damaged plastic parts from vehicles from the trail and area surrounding the trailhead. In total, they packed out 1,200 pounds of trash.

The Old Florida Road is a historically significant 4×4 route, with famous bedrock obstacles. The route can be run as a single 4-mile trail or as part of a much larger route of up to 70 miles of mixed pavement and scenic off-road trails. The Mohawk 4×4 Adventures crew has been working to prevent permanent closure to motorized recreationists from this and other surrounding trails.

Without any legal go-arounds available, users should be equipped with winches, locking differentials and oversized, aggressive tread tires- as well as the proper training to know how their equipment works. Group size should be limited to small, manageable groups to prevent overuse.

For more information on the efforts to keep this trail open and accessible, and simple rules that visitors should abide by when visiting Old Florida Road, please reach out to: president@mohawk4x4adventures.org.

Thank you to the partners who made this possible:
-Mohawk 4×4 Adventures, Inc.
-Quadratec


"The Mohawk 4×4 Adventures crew has been working hard with the community and land managers to keep this historic trail (and others in the area) open for some time, and this "50 for 50" project helps ensure that we can all keep enjoying the challenges of the Old Florida Road."–JoMarie Fecci, Tread Lightly! Member

"The Mohawk 4×4 club put on a great event and we cleaned up the trailhead plus ran the trail. Tread Lightly! and Quadratec partnered with a great group of folks. Thank you for backing this project. It makes me proud to be a member of Tread Lightly! and I look forward to volunteering for future efforts."– Ray Monast, Tread Lightly! Member

"What a fantastic experience, collaborating with Tread Lightly!, Quadratec, Massachusetts DCR, neighbors and ESPECIALLY the club members and volunteers to clean up this area and leave it better than we found it. What an amazing job by an amazing group of people." –Michael White, President of Mohawk 4×4 Adventures, Tread Lightly! Member Club

Want to get involved in your own Tread Lightly! project? Find upcoming activities, events and grant opportunities at treadlightly.org.