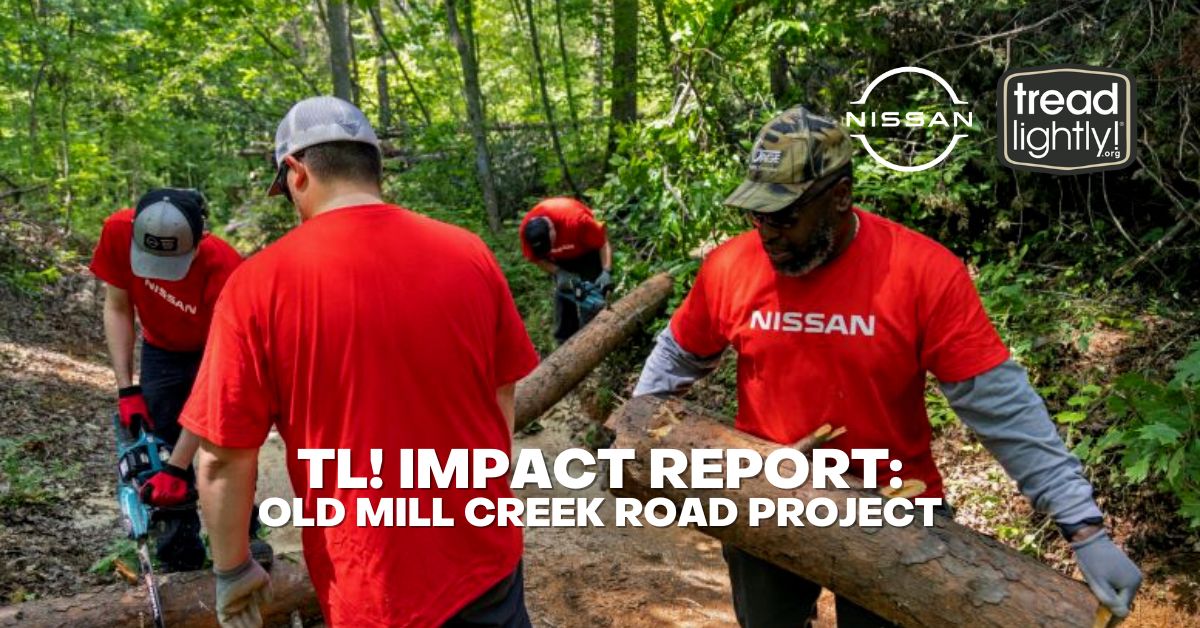 05 Jul

Tread Lightly! Impact Report: Old Mill Creek Road Project

Project: Old Mill Creek Road Improvement Project
Location: Tennessee

Description: This project was funded by Nissan North America to help improve public lands with support from volunteers from the Nissan Smyrna Vehicle Assembly Plant.

On June 13 and 14, 13 volunteers from the Nissan North America Smyrna Vehicle Assembly Plant in Tennessee joined to help improve the Old Mill Creek Road, a 5-mile county road in Hickman County Tennessee. The road was not easily accessible to all county-road vehicles and equipment due to its extremely challenging ruts and erosion in several locations. Severe thunderstorms in past month have brought down many trees along the road which were cut just wide enough for a vehicle to pass, but not completely removed from the road causing possible tire or vehicle damage. This beautiful winding road also crosses Old Mill Creek in multiple places and has been known to have vehicles off the trail driving in the creek.

Volunteers were able to cut and clear overhanging trees and branches across the full 5 miles of the Old Mill Creek Road that could impede safe travel. In addition to brush clearing, new signage was placed at each creek crossing to educate users about responsible water crossing and care for fish habitats. The entire road was cleaned of trash, tires, and parts from vehicles damaged over the rough terrain. Rocks were moved from the creek area and other parts of the road with Nissan-supplied vehicles to fill in some of the severely eroded portions of the road that made the road nearly impassable with any vehicle without a lift kit and tall off-road tires.

Thank you to the partners that made this possible:
-Nissan North America Smyrna Vehicle Assembly Plant
-Hickman County


"We're grateful to Tread Lightly! for the opportunity to help clean up Old Mill Creek Road. Our employees enjoyed the chance to be a part of keeping this rugged road in good condition for others to enjoy now and in the future." – Brian Crockett, Vice President, Manufacturing, Smyrna Vehicle Assembly Plant, Nissan U.S.

"I want to thank the Nissan team and Tread Lightly! for all the hard work you did on Old Mill Creek Rd. It makes the area look so much better and to help preserve for a scenic drive. Thanks again for your hard work and dedication on this project." – Ronald Coates, Hickman County Road Supt.

Want to get involved in your own Tread Lightly! project? Find upcoming activities, events and grant opportunities at treadlightly.org.