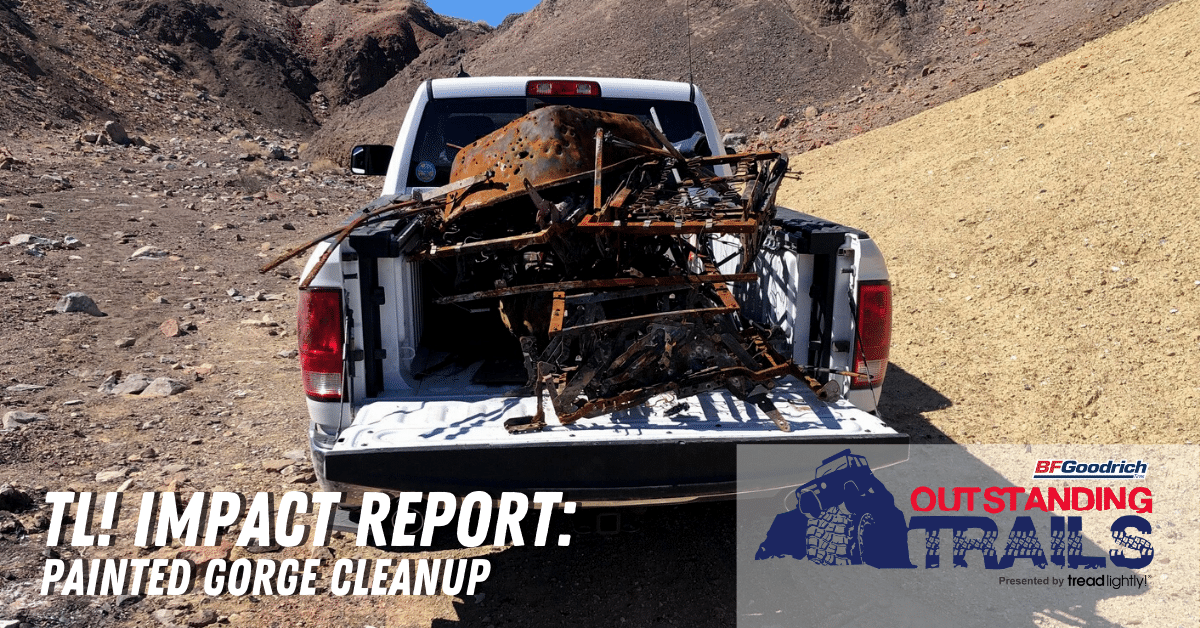 17 Mar

Tread Lightly! Impact Report: Painted Gorge Cleanup

Project: Painted Gorge Cleanup
Location: Ocotillo, CA

Description: This project was funded by a 2021 BFGoodrich Outstanding Trails grant awarded by Tread Lightly! Each year the Outstanding Trails program provides opportunities for off-roading clubs across America to nominate trails to receive grants for education and preservation. Since 2006, BFGoodrich has awarded more than $200,000 in grants to support organizations dedicated to conserving off-road trails. Past grant recipients have installed educational signage, improved infrastructure, and repaired local off-roading trails. 

On February 26, 2022, 43 volunteers gathered to clean up the Painted Gorge area near Ocotillo, California, filling a dumpster with trash removed from the area. The project, funded by the BFGoodrich Outstanding Trails Program, was hosted by the San Diego Off Road Coalition (SDORC), which collaborated with Tread Lightly!, the Bureau of Land Management (BLM) El Centro Office, Tierra Del Sol Four Wheel Drive Club, SDMust and San Diego 4 Wheelers. SDORC and volunteers had to really search to find trash. The last few years of clean ups and staying on top of the big trash items has drastically reduced the trash from the area. After the cleanup, the BLM hosted a guided hike of the area for participants.

"The San Diego Off Road Coalition hosted a cleanup in Painted Gorge recently and collected a lot of trash. Painted Gorge is a BLM area that allows both off roading and recreational shooting. We love the area and want to keep it open for our kind of use. Thanks to our friends at Tierra Del Sol 4×4 club, San Diego Four Wheelers and SDMust, we made the area much cleaner and fun to recreate in again."-Ed Stovin, SDORC

"We had a total of 43 people sign in that morning. It was amazing to see the reduction of trash and large items, we had to really search and seek out the trash that we found and removed. In my opinion, if its clean people tend to keep it clean, if its trashed people just don't care and won't pick up after themselves. So, I think the last few years of clean ups and removing and staying on top of the big-ticket items, has drastically reduced the trash from the area." Audrey Mason, SDORC


"We removed a lot of trash and nails from the area.  It is important as off-road enthusiast to always pack out more than you brought in.  To leave a site better than you found it to preserve the beauty of the desert and to prevent the loss of access to these beautiful areas."-Scott Mau, Wagon Master at SD4Wheelers

"TDS has always tried to lead by example. Our record speaks for itself. We have organized multiple clean ups at Cleveland National Forest, BLM property, and Ocotillo Wells SVRA. Cleanups are a way for groups to give back to the community. People need to be instilled in "Pack it in, pack more out". Some groups who use these facilities have not been made aware of the need to do this. They need education on the subject."-Bo Neece, Tierra Del Sol Four Wheel Drive Club


Want to get involved in your own Tread Lightly! project? Find upcoming activities, events and grant opportunities at treadlightly.org.