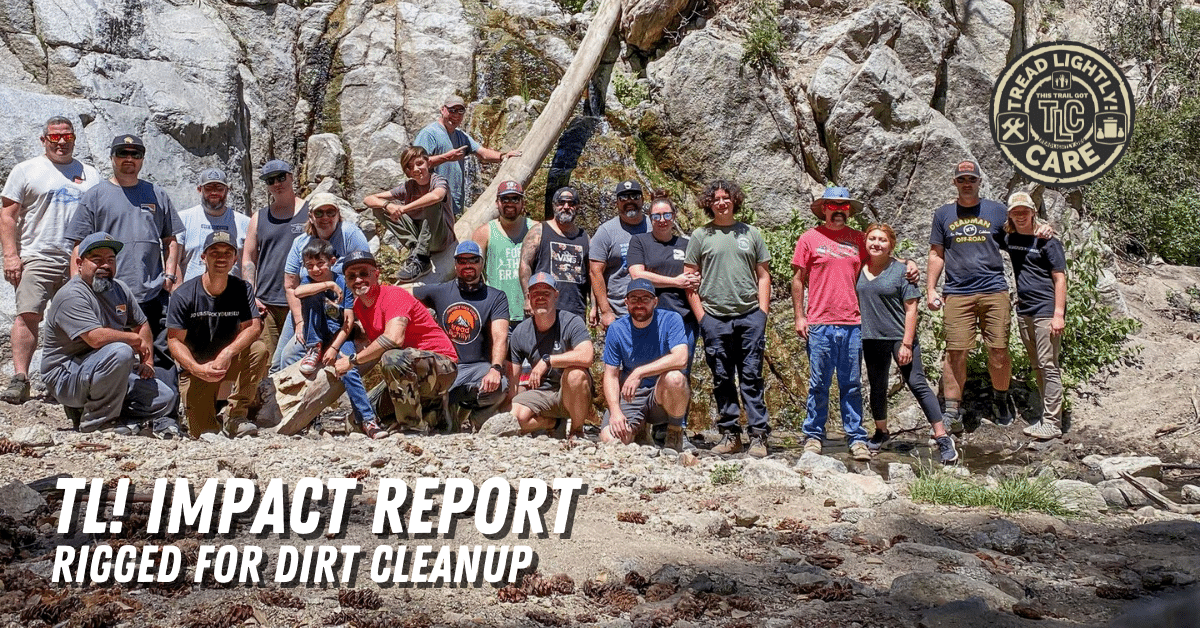 24 Jun
Tread Lightly! Impact Report: Rigged for Dirt Cleanup on the San Bernardino National Forest
Project: Rigged for Dirt Cleanup
Location: San Bernardino National Forest
Description: On June 10, 2022, Rigged for Dirt, supported by Tread Lightly!, organized a cleanup on the San Bernardino National Forest in California. Together, 35 volunteers removed 500 lbs of trash from the forest along with clearing 15 drains and surveying 33 miles of forest road to improve off-roading access in the forest.
Thank you to the volunteers and partners who showed up to do their part to leave this area better than they found it!
Thank you to our supporting partners: Rigged for Dirt, US Forest Service, Rove Beer, Deadman Offroad, and Rigs&Brews
"Our efforts are the best form of selfishness possible. As off-roaders and seekers of adventure we utilize these roads to create memories with family and friends. In order to justify our impact we need to offset that incursion whenever possible and trail projects like this are the solution. Helping remove some of the burden of work off of the shoulders of the US Forest Service is an additional benefit and makes for an amazing time had by all." -Ali Sedaghat, Rigged For Dirt
"As we dive deeper into projects to help maintain our lands it's incredible to see how much is done by land managers to keep these lands open and accessible. Clean-ups are a small part. From erosion mitigation and road maintenance to campsite and fire pit repairs, It's like maintaining a wild AirBnB for millions. We're so happy to contribute to these efforts and bring the community along to experience the satisfaction of keeping our public lands open for all to continue to experience."-Frank Martinez, Rigged for Dirt
Want to get involved in your own Tread Lightly! project? Find upcoming activities, events and grant opportunities at treadlightly.org.