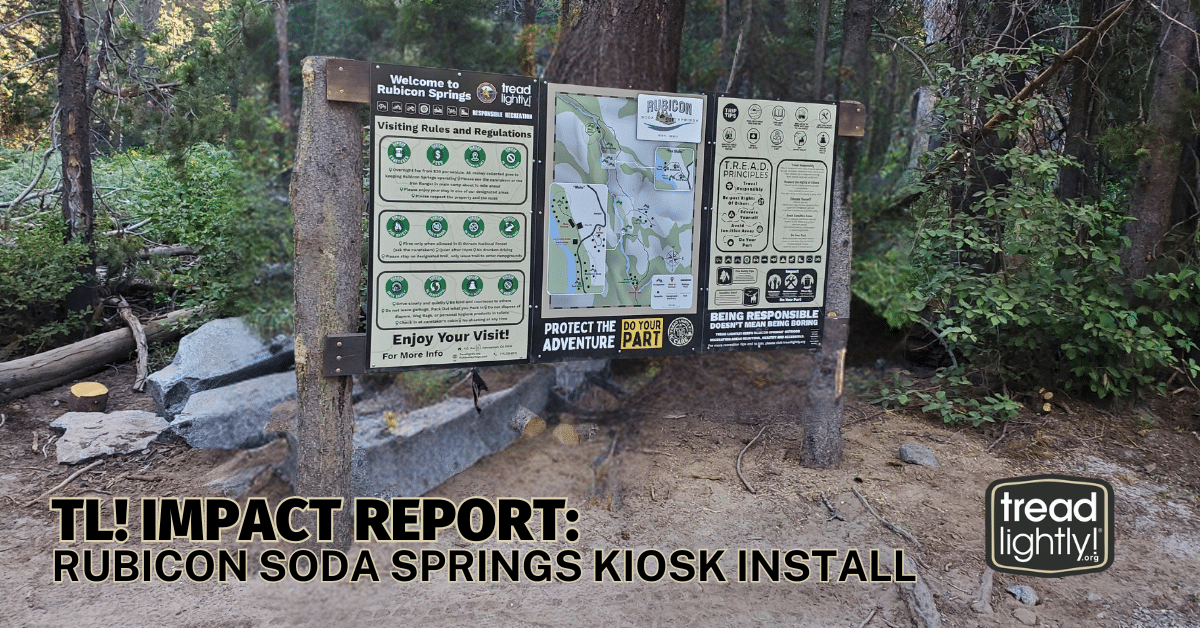 25 Sep

Tread Lightly! Impact Report: Rubicon Soda Springs Kiosk Install

Project: Rubicon Soda Springs Kiosk Install
Location: California

Description On Sunday, July 23, 2023, ten volunteers and stakeholders of Rubicon Soda Springs, Incorporated installed two three-panel kiosks at the two entrances of the historic and iconic Rubicon Springs, located at the midpoint of the Rubicon Trail.

Rubicon Springs has been an idyllic destination on the Rubicon Trail since its founding back in 1850 and has played host to the iconic 4WD event, Jeepers Jamboree, since 1953. The signage kiosks detail the rules and regulations for visitors to the Springs, and includes a map, basic safety and responsible recreation information, and tips for visitors to do their part in keeping the Springs and Rubicon Trail pristine.

Thank you to the partners who made this possible:
Rubicon Soda Springs Incorporated
El Dorado County
"Rubicon Soda Springs is 400 acres of high Sierra private property nestled inside USFS managed public lands and has been a destination for Rubicon Trail users for generations. Sustaining that beauty and recreational access for the generations to follow remains our highest priority. Thanks to our partnership with Tread Lightly!, we now have the best resource available to help us educate both existing and new visitors to the importance of responsible individual actions. We look forward to expanding our relationship together in the years to come!"-Josh Hall, Rubicon Soda Springs Director
Want to get involved in your own Tread Lightly! project? Find upcoming activities, events and grant opportunities at treadlightly.org.