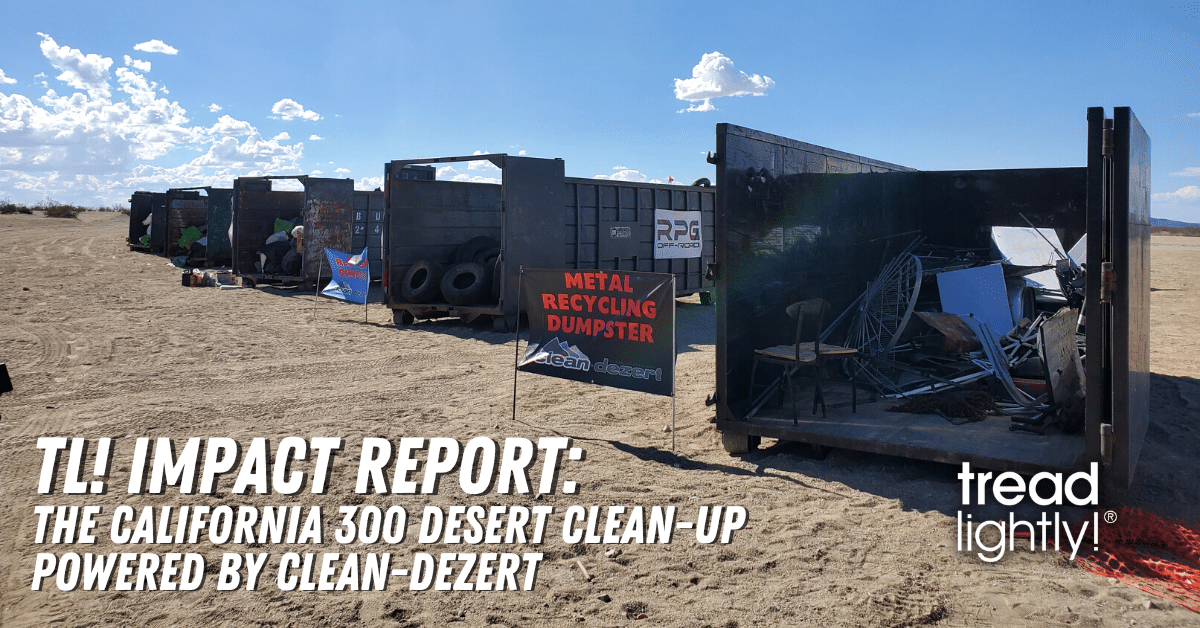 08 Nov

Tread Lightly! Impact Report: The California 300 Desert Clean-up Powered by Clean-Dezert

Project: The California 300 Desert Clean-up Powered by Clean-Dezert
Location: Barstow, California

Description: On Saturday, October 8, 2022, nearly 400 volunteers gathered at the Stoddard Valley OHV Area just south of Barstow, CA to make an impact and clean up the desert ahead of the inaugural California 300 race. Over the course of 3.5 hours, the volunteers scoured the desert, collecting trash including tires, wrecked patio furniture, camper shells and more. By the time the work was done, and the day was heating up, nine 40-yard dumpsters were filled with 10.5 tons of trash.

Thank you to the partners who made this possible:
The California 300
Mad Media
Clean-Dezert
BLM Barstow
Gravel Kings
Camburg Racing
Weddle Industries
Total Chaos
BTF Fabrication
Hollander Motorsports
King Shocks
Deaver Springs
Evoke Offroad
Landau Pools
Trail Trust
Barstow Del Taco
Deluxe Window Tinting
Fabschool, Dirt Designs
RPG Offroad
BadlinesGoodTimes
John Alagna
Westin Automotive
Pretty Dirty Clothing
"We are extremely excited to team up with the California 300 team to put on a great event. We as desert racers have a responsibility to keep our public lands clean and open for future generations. With our event we were able to bring over 400 volunteers together to make a huge impact on these lands."-Adam Filbin, Clean-Dezert
"Pulling over 10 tons of trash out of the desert right before The California 300 is our way of showing that off-roaders are responsible land users. We don't even want to see our beautiful deserts trashed. We encourage even to organize your own cleanups locally and be a part of the solution. We had a great turn out this year and hope to grow it for years to come and have a positive impact on Barstow!"-Matt Martelli, California 300 CEO.
Want to get involved in your own Tread Lightly! project? Find upcoming activities, events and grant opportunities at treadlightly.org.