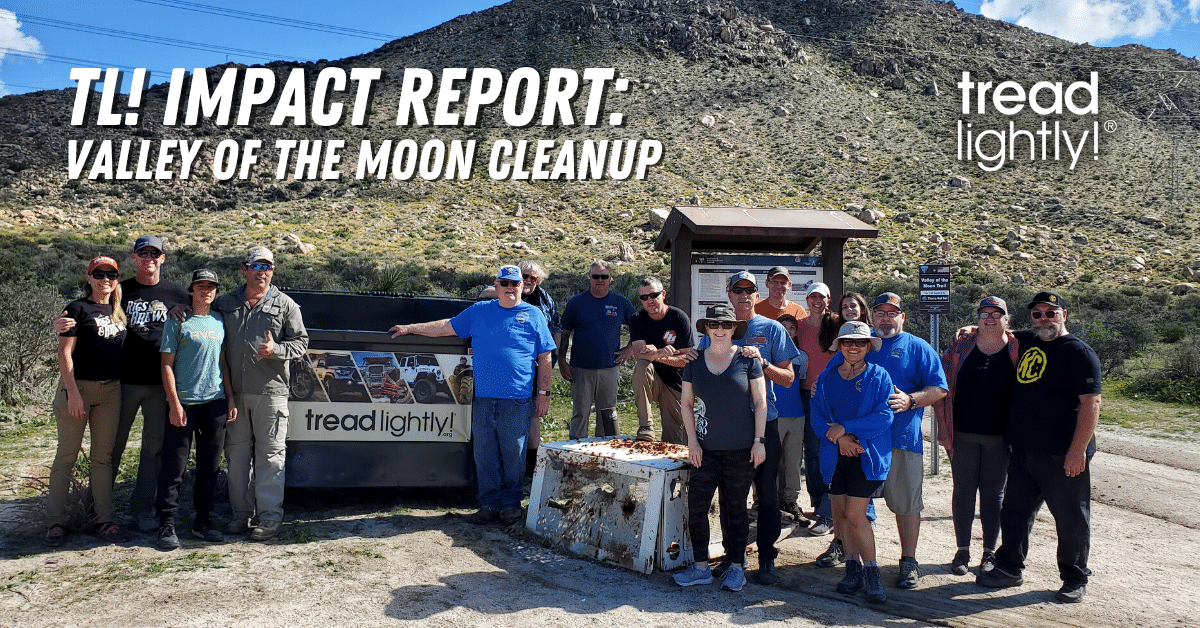 08 Nov

Tread Lightly! Impact Report: Valley of the Moon Cleanup

Project: Valley of the Moon Cleanup
Location: San Diego County, California

Description: On the chilly morning of October 16th a group of 22 volunteers from San Diego 4 Wheelers and Tierra Del Sol met to make an impact and leave the Valley of the Moon trail, located in eastern San Diego County, better than they found it. Over 4 hours, the volunteers traversed the 4 mile out and back trail, picking up trash wherever they found it. When all was said and done a 3-yard dumpster was filled with 800 pounds of trash.

Thank you to the partners who made this possible:
San Diego 4 Wheelers
Tierra Del Sol 4×4 Club
BLM El Centro
Rigs & Brews
SDORC
SDMust
"As more and more visitors venture out onto their public lands, partnerships like the one we have between Tread Lightly! and the BLM El Centro Field Office become crucial to continue to provide quality recreation opportunities and experiences. The outreach events that Brandon coordinates at Tread Lightly! are helping us to meet that challenging goal. The partnership building, teamwork, and outdoor experiences are building important land use ethics that will last for generations, improving the desert landscape, and increasing visitor safety."-Neil Hamada, Bureau of Land Management
Want to get involved in your own Tread Lightly! project? Find upcoming activities, events and grant opportunities at treadlightly.org.