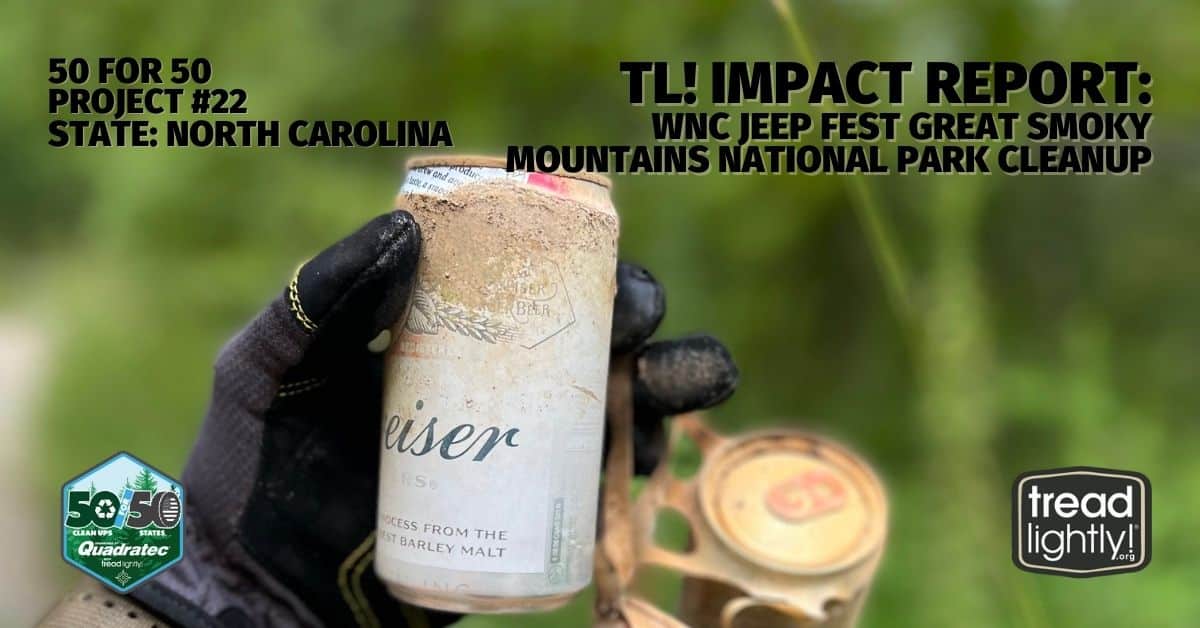 06 Jul

Tread Lightly! Impact Report: WNC Jeep Fest Great Smoky Mountains National Park Cleanup

Project: WNC Jeep Fest Great Smoky Mountains National Park Cleanup
Project #22/50
State: North Carolina

Description: This project was funded by the Quadratec 50 for 50 Initiative. Together with Tread Lightly!, Quadratec has committed to fund a project to improve off-road trails and public lands in each state by December 2023.

On June 11, 15 volunteers, who attended the WNC Jeep Fest event in Maggie Valley, NC, held a cleanup within the Appalachian District of the US Forest Service and the Great Smoky Mountains National Park. During the WNC Jeep Fest event, the roads that were cleaned served to host guided trail rides for event participants. Organizers wanted to make sure the forest was left clean and ready for future motorized users to enjoy after the event.

Despite a shortened cleanup due to the rain, volunteers removed 450 pounds of trash from the area, improving 11 miles of the forest. Volunteers from the WNC Jeepers plan to revisit the site to continue cleaning this area at a later date when the weather has improved.

As of early August, the WNC Jeepers has returned and a total of 12 miles of trail were cleaned up with 10 bags of trash, a satellite dish, a hubcap, and a heavy duty tire/wheel picked up and removed from the forest.

Thank you to the following partners for their support:
USFS Appalachian Ranger District
Quadratec 50/50
WNC Jeepers
Want to get involved in your own Tread Lightly! project? Find upcoming activities, events and grant opportunities at treadlightly.org.